Details

Published on Sunday, 04 April 2010 21:30
Play ball!!!
It is a very special all-baseball edition of News & Notes. Plenty of live remotes tomorrow to celebrate the Chicago White Sox' home opener, with broadcasts by WSCR, WMVP & WKQX. Also, Comcast SportsNet has plenty of special Sox programming. WGN is celebrating the Chicago Cubs' season opener on the road with a new "10th Inning" show, while WCIU shows the full Monte. All of the details are just below...
* * Tomorrow, Monday the 5th, baseball fever begins with a live remote for WSCR's Mully & Hanley. The Score morning show will be broadcasting live from Buffalo Wings and Rings (3434 S. Halsted St., Chicago) from 5:00am-9:00am. Not only can you see the radio show in action, but there will also be a free breakfast buffet starting at 7:00am, as well as chances to win free tickets for the White Sox opening day game, taking place later in the day.
* * From 9:00am until 12:30pm, WSCR's Kerry Sayers will be broadcasting live updates from Buffalo Wings and Rings, even after Mully & Hanley sign off.
* * Also going on from 9:00am-12:30pm, The Score's midday duo of Dan McNeil & Matt Spiegel will be broadcasting live from US Cellular Field. They will have a booth set up at Gate 3 to talk with fans and focus on the big opening game there.
* * Back at Buffalo Wings and Rings, WSCR's Chris Rongey will be broadcasting the Chicago White Sox's pre-game and post-game shows live from the southside establishment. (Of course, the game itself also airs on WSCR tomorrow afternoon.)
* * Q101's Sherman & Tingle (and Lou, too) are also doing a live remote Monday morning. WKQX's morning show will be broadcasting live from Rocky's Bar & Grill (234 W. 31st St., Chicago) from 6:00am-10:00am. They will be giving away opening day Sox tickets every hour, so come out and party! Also, Metallica cover band, Blackened will be bringing the noise.
* * * * Tomorrow, Monday the 5th, ESPN1000's Waddle & Silvy will be broadcasting live from Morgan's on Maxwell (1325 S Halsted St., Chicago) from 9:00am-1:00am as they get themselves and their audience ready for the White Sox's home opener.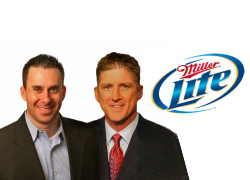 * * Soon after on ESPN1000, the Afternoon Saloon will also be doing a live remote from 2:00pm-6:00pm. Join Carmen, Jurko & Harry at Cork & Kerry (10614 S. Western Ave., Chicago) to cheer on the Southsiders while the game is on.
* * Comcast SportsNet is overcome with White Sox fever, as well. As the only TV outlet for the game in Chicago, they plan on starting the celebration early, too. At 10:00am, CSN will replay Mark Buehrle's historic perfect game from July 23, 2009. At Noon, it is the "Feldco White Sox Pre-Game Live" with Pat Boyle, Bill Melton, Chuck Garfien and Sarah Kustok all broadcasting live from U.S. Cellular Field. At 1:00pm, Ken "Hawk" Harrelson & Steve Stone take over and get ready to call the game. At around 4:00pm (give or take), it is the "U.S. Cellular White Sox Post Game Live" show with Chuck Garfien, Bill Melton and Sarah Kustok. At 5:30pm, it is "Chicago Tribune Live" hosted by David Kaplan. At 7:00pm, the entire game from earlier in the day is rebroadcast.
* * It is not all White Sox news on Monday! The Cubbies begin their season at 3:15pm tomorrow afternoon. After the game, WGN Radio will have the new & improved "10th Inning" show. The Cubs post-game show will star Jim Memolo and David Kaplan, along with WGN's great new hire, George Ofman. (What? Did you think it was Jim Laski?!?)
* * The Chicago Cubs season opening game will only be seen on WCIU-TV, starting at 3:00pm. Segments before and during breaks of the game will feature Monte, WCIU's food critic from "You & Me This Morning," Cubs fan and all-around Chicago guy.
* * Is it too soon to start cheering for a Chicago subway World Series?