Details

Published on Wednesday, 07 April 2010 14:46
In today's News & Notes, we look at a big weekend event with Herb Kent, Dick Biondi, and Bob Sirott; Marianne Murciano's training website; CHIRP throwing a couple of record parties; Alan Cox throwing his voice; WDRV celebrating home-grown rock; and Steve & Johnnie celebrating an anniversary.
* * This Saturday is the big night that brings together three of the biggest stars in the Chicago radio galaxy. This aligning of the stars is courtesy of the Radio Department and the Office of Alumni Relations of Columbia College. Together on one stage will be Herb Kent & Dick Biondi, being interviewed by Bob Sirott. Herb Kent, who officially set the Guinness World Record a few months ago for having the longest DJ career in history, now over 65 years, started on Chicago radio on WBEZ in 1944. Dick Biondi was once known as the number one disc jockey in the nation. He began his radio career in the 50's in upstate NY, before landing in Chicago at WLS in 1960. Both Kent, 81, and Biondi, 77, are Radio Hall Of Famers. They will be interviewed by another radio superstar who followed in their footsteps in the 70's, Bob Sirott. He has gone on to have a very successful career in both radio & television. Sirott, himself a Columbia College graduate with a Bachelor of Arts degree in 1971, will talk with the two radio legends about their illustrious careers at Columbia College on April 10th. The event starts at 7:30pm and will be held at Columbia's Film Row Cinema (1104 S. Wabash, 8th Floor, Chicago). Even though an event like this could easily command a high ticket price, the event is completely free and available to all (until the theater reaches a safe capacity).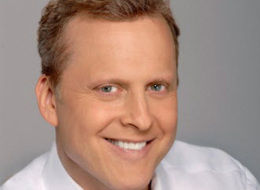 * * Speaking of Bob Sirott, his lovely wife, Marianne Murciano, the television & radio host and writer, has a new project she is working on. It is called "How To Train Your Man." The relationship advice website launched a few weeks ago and continues to grow in popularity. You can check it out for yourself at this link
HERE
. Bob Sirott & Marianne Murciano continue to host the "Sunday Night Radio Special" on WGN-AM together.
* * It's back! The 8th Annual CHIRP Record Fair... & Other Delights returns this week. As with years past, the two day event offers an amazing selection of vinyl records, CDs, posters, magazines, artwork, videos, DVDs, crafts, and rarities. The main attraction is the incredible amount of music items from all genres that will blow away the music lover in you. In addition to all of the merchandise for sale, there will be beer flowing from Goose Island and food from Irazu, as well as live music & DJs. The 2010 CHIRP Record Fair... & Other Delights will take place this Saturday & Sunday at the Chicago Journeymen Plumbers Union (1340 W. Washington Blvd., Chicago) from 10:00am-5:00pm. Admission is only $7 ($5 if you can clip out & bring a print ad for the event). For you hardcore shoppers looking for the rariest finds, there will be a special pre-admission session from 8:00am-10:00am on Saturday morning. Admission to that session is $25, but it includes free re-admission all weekend long. Proceeds go to the Chicago Independent Radio Project.
* * To celebrate this weekend's Record Fair, CHIRP is throwing a big kick-off party on Thursday night at the Beauty Bar (1444 W. Chicago Ave., Chicago). CHIRP radio personalities Dustin Drase and Kristin Marks will be on hand. There will be DJ sets by Pretty Good Dance Moves and Buck Master. The party starts at 9:00pm and there is no cover charge.
* * On WDRV tomorrow, their Thursday Artist Portrait will be a salute to Chicago area "Hometown Heroes," local classic rockers. Artists such as Cheap Trick, Styx, Chicago, Survivor, REO Speedwagon, The Buckinghams, Ides of March, Off Broadway, and Cryan' Shames will all be sharing the spotlight all day Thursday on The Drive.
* * Former Q101 morning show host & Chicago radio personality Alan Cox, left this market this past December to take a high profile job on Cleveland's famous WMMS-FM, a Clear Channel-owned station. Cox is about to find out one of the perks of working at a Clear Channel station: voice-tracking. The radio & television personality, stand-up comedian, and writer, will now also be heard on St.Louis' WSDD-FM, another Clear Channel-owned station. Starting next Monday, April 12th, Cox will be the main DJ on the air from 10:00am-4:00pm via voice-tracking from Cleveland. He will continue to do his regular live WMMS show in the afternoons, as well.
* * Lastly, I can only think of four married couples currently on the air together on Chicago radio. It is a pretty rare occurrence nowadays. Congratulations to one of Chicago radio's on-air couples: WGN's Steve & Johnnie. Today is the couple's 26th wedding anniversary! (This is why they are on vacation this week.) Best wishes to Steve King and Johnnie Putman today.