Details

Published on Saturday, 01 May 2010 13:28
A quick weekend News & Notes with news about a special Saturday show for WGN's Garry Meier, a special anniversary show for Bob Stroud, a new app for Richard Roeper, a gassy promotion for WCIU, and WIND's "Tee Party" with Big John & Amy & Dennis Miller!
* * As most of you know, the Chicago Blackhawks get one step closer to the Stanley Cup once they beat the Vancouver Canucks in the series that begins tonight. Before this evening's game, WGN's Garry Meier will be broadcasting live from the United Center from 5:00pm-7:00pm to get ready for what will hopefully be a big win!
* * There is another anniversary being celebrated on Sunday besides those of WLS-AM & Dick Biondi's. Bob Stroud's Rock & Roll Roots is turning 30! On the Drive's R&RR show Sunday morning, Bob Stroud will look back on the past 30 years of this special program. It will air from 7:00am-9:00am this Sunday on WDRV/WWDV.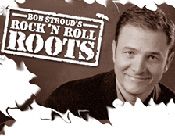 * * Move over Oprah... Now it's Roeper on the Go! (Roeper-A-Go-Go?) Richard Roeper, the Sun-Times columnist, WLS-AM host, author, movie reviewer, and holder of about a dozen other jobs & interests, now has his very own app! The app, which is only for the iPhone & iPod Touch right now, offers Roeper's written movie reviews, as well as videos of his movie reviews. Roeper, who admits to being a geek about iPhone apps, is pretty thrilled to now have his own. The free app can be found at this link
HERE
.
* * WCIU-TV is giving you gas! (Wait... that doesn't sound quite right...) Starting this coming Monday, May 3rd, viewers of the syndicated court shows "Judge Mathis" and "The People's Court" on WCIU/The U will be shown a code word during those shows. Enter that code word online and you could be one of the two lucky winners each day of a $100 Marathon gas card. At the end of the month, one of the lucky gas card winners will will $1,000,000 in what the station is calling its "Mathis & Milian Million Dollar May Contest."
* * WIND-AM has had plenty to say about "Tea Parties" lately, but on June 7th, they will instead be talking about and holding a "Tee Party" -- as in golf tee. Monday, June 7th is "Big John & Amy's 'Tee Party' Golf Outing" held at the Elgin Country Club. John Howell & Amy Jacobson will be doing their radio show live from there from 5:00am-9:00am that day. The event is to benefit USA Cares, an organization dedicated to helping bear the burdens of service by providing post-9/11 military families with financial and advocacy support in their time of need. WIND's Dennis Miller, who serves as the national spokesman for USA Cares, will also be at this event and will be doing his national show from there from 9:00am-11:00am. Additionally, Miller will be the host for the evening's awards banquet. The price of $185 per golfer includes tee gifts, possible prizes, lunch, photos with the stars, range usage, 18 holes golf with cart, event contests, dinner provided by Elgin Country Club and awards presentation. For more details and to register for the "Tee Party," visit this page
HERE
.