Details

Published on Sunday, 02 May 2010 15:54
After many weeks of tryouts, contests, voting and events, WLUP has finally found their Loop Rock Girl 2010. Last night, at a
grand ceremony & pageant
held at The Fuel Room inside Austin's restaurant, the large crowd and Loop judges (including celebrity judges Motley Crue lead singer Vince Neil and WMAQ-TV sports anchor Paula Faris) picked the replacement to Loop Rock Girl Leah.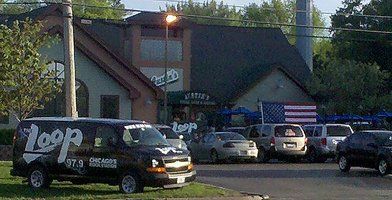 The photo above, taken by the crack CRM photography squad about an hour and a half prior to the start of the event, shows the jam-packed parking lot for Austin's, even long before any of the women took to the stage. Soon after the Rock Girl Finals started, a near capacity crowd saw the "Sweet 16" finalists have their numbers quickly dwindled down. By then end, the only two left standing were Jenna Matenelli, the Blackhawks Ice Girl & new co-host of JBTV, and Lindsey Nicole Schendel, the bartender from Chicago. Pete McMurray opened up the envelope and revealed the name of the new Loop Rock Girl: Lindsey.
Lindsey Nicole Schendel, who for the next year will be referred to simply as Rock Girl Lindsey, is (or maybe now, "was") a bartender at three Chicago establishments: Bull & Bear, Stone Lotus, and the Captain Morgan Club inside Wrigley Field. She has an Associates Degree in Arts from Harper College and a Bachelors Degree in Marketing & Advertising from Roosevelt University. She is 24 years old, a native of Rolling Meadows and currently lives within Chicago.
As the winner of the Loop Rock Girl contest, Lindsey now gains a one year, $75,000 contract, and gets to represent Chicago's rock station at events until next spring. She is scheduled to have a new promotional photo shoot done before this month is out, and will begin visiting Chicagoland bars & events for WLUP very soon.