Details

Published on Sunday, 09 May 2010 21:07
In this Mother's Day evening edition of News & Notes, we look at: a new podcast for WGN-TV's Ana Belaval; Garry Meier giving out prizes like a modern day Monty Hall; Rich Koz returning to radio with Steve & Johnnie; fans of Kathy & Judy plan a street side protest; Mike Nowak wants you to grow your own; Chicago Rocker returns to rock the magazine stands at your local bar; Tony Fitzpatrick returning to rock a Chicago stage; and the family of WCFL's Jim Stagg walks in his memory for a good cause.
* * A news item perfect for Mother's Day! WGN-TV reporter and aspiring stand-up comedian, Ana Belaval is now hosting a new podcast called "Aye Mama." That happens to be the same name as her ChicagoNow
blog
that Belaval does with few other women. The podcast, like the blog, is about "the daily trials and tribulations of motherhood." The debut podcast was just posted up the other day and can be found
HERE
. It does have a feel of eavesdropping on a conference call -- since it was recorded using phone lines and not professional microphones, there is a good reason for that -- but does have a promising future.
* * Garry Meier will be doing his WGN Radio show tomorrow live from the Rockit Wrigleyville Bar & Grill, located at 3700 N. Clark Ave. in Chicago, starting at 3:00pm and going until the Cubs broadcast begins. As part of the live remote, Garry and company will be a prize giving away machine! Among the MANY prizes to give away are: an autographed Derrick Rose Chicago Bulls jersey, a Patrick Kane autographed Blackhawks replica jersey from the Winter Classic at Wrigley Field, a Jonathan Toews autographed Team Canada replica Olympic jersey, rooftop tickets for Monday night's game, tickets to Chicagoland Speedway's 2010 NASCAR Race Weekend, hotel stays, free golf passes, DVDs, gift cards and the proverbial, much, much more! A complete list of prizes and a way to register to win can be found at this link
HERE
.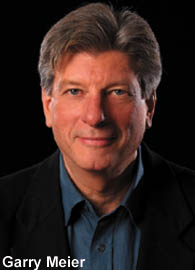 * * On Tuesday night/Wednesday morning, WCIU-TV's Rich Koz, aka Svengoolie, will return to the radio airwaves. (Koz previously worked on Chicago radio as a top fill-in person on WGN & a morning show host on WCKG, among other radio jobs.) Koz will be bringing his rubber chickens, his Three Stooges trivia-filled mind, and his penchant for "schtick" to WGN on Steve & Johnnie's overnight show. This will begin shortly after Midnight (depending on the ending time of Tuesday night's Blackhawks/Canucks game). Even callers from
Berrrrrwyyyyyn
will be allowed to phone in to talk with Steve King, Johnnie Putman and Rich Koz.
* * Speaking of WGN, Saturday, May 22nd is the one year anniversary of WGN's removal of popular late morning hosts Kathy & Judy. To mark the anniversary, fans still upset by the move are planning a gathering in front of the WGN Showcase Studios on that day from 9:00am-Noon (the same time shift as K&J's old show). The gathering is being organized by Jim Kollars and
"The Unofficial Kathy and Judy Show Fan Club"
Facebook page. The purpose is to let WGN management know that these one-time loyal listeners are still upset with the changes at the station. Those wishing to join up with the peaceful gathering are welcome to bring signs to hold up, too.
* * On this coming Saturday, May 15th, WCPT/Chicago's Progressive Talk station, will be doing a live remote broadcast of the Mike Nowak Show from 11:00am-1:00pm. Nowak will be hosting a panel discussion called "Growing in Austin" at the Third Unitarian Church (301 N. Mayfield Ave., Chicago) on Chicago's West Side. The main purpose behind this event is to inform and inspire people on urban sustainability, home and community gardens, and Green neighborhood living. There is no charge to attend, but advanced RSVP's at this link
HERE
are appreciated.
* * In the late 80's and early 90's, the Chicago Rocker Newsletter was free local publication that featured information, interviews and articles on local rock bands. As the hairband music of that time period faded away, so did the newsprint magazine. It resurfaced as a website around 2003, but that lasted only a matter of weeks. At the start of this year, the Chicago Rocker Newsletter returned as a section inside the Illinois Entertainer periodical. Now, the Chicago Rocker is once again back as a full-color, stand-alone magazine. The latest issues can be found at participating Chicagoland bars & stores. They can also be viewed as PDF versions on the Chicago Rocker's
website
. Additionally, the website has a brand new "store locator," allowing fans an easy way to find the latest issue an an establishment near them. The website is said to be soon adding local music and video to it, as well.
* * One time Chicago radio personality Tony Fitzpatrick, who has famously done radio shows on WLUP-AM/FM with Buzz Kilman and Wendy Snyder, among others, is making his return to the stage. The artist & poet will be bringing his show, "This Train" to the Steppenwolf Merle Reskin Garage Theatre, aka the 16th Street Theater (6420 16th St., Chicago), beginning on July 15, 2010 and running through August 1. The show will feature Fitzpatrick's amazing spoken words, as well as music, art and visual treats. Shows will take place Thursdays & Fridays at 7:30pm, Saturdays at 5:00pm & 8:30pm, and Sundays at 7:00pm. Tickets, which are only $22, can be purchased
HERE
. More information about this production, along with a pair of podcasts of radio interviews Fitzpatrick did for this show on WGN & WBEW, can be found
HERE
.
* * On May 23rd, the Cancer Wellness Center will be holding its
6th annual "Stepping Up To Wellness" Run & Walk
. Among the teams participating are the widow and family of one-time Chicago radio great, Jim Staggs, aka Jimmy P Stagg. Jim Staggs was the long-time WCFL DJ & Program Director, as well as being the exclusive for radio reporter for The Beatles for a couple of years and later, the owner of the popular Record City record stores throughout Chicagoland. Although Staggs sadly lost his valiant struggle with cancer back in November of 2007, Northbrook's Cancer Wellness Center was a huge support system for him during this time period, as well as for his entire family. Now his family & friends are joining in with the 2010 "Stepping Up To Wellness" event to try and raise funds and awareness for this Center that helped them so. Their team is called "Staggs Steppers" and they are trying to raise the modest sum of $1,000. To help support and contribute to the Staggs' team, simply click on this link
HERE
and make a donation to the cause.
Jim Staggs was such a big admirer of the work that the Cancer Wellness Center did, that he lent his famous voice to the following video, an overview of their work and a look at their 2007 "Stepping Up To Wellness" Run & Walk. This is the final video & professional work, the late, great Mr. Staggs made...