Details

Published on Friday, 14 May 2010 14:50
It is time for another super-sized edition of News & Notes! This time we look at a busy weekend for Bruce Wolf, a book signing for Richard Roeper, Julian on the Radio doing some hosting off the radio, Steve & Johnnie's interview with Rich Koz, Margaret Larkin taking us behind the scenes of the "RadioGirl" podcasts, Rick O'Dell brunching with Johnathan Butler, the Blackhawks' new TV show for children, Polnet looking northward, Jill Carlson returning on CSN with WTMX's Eric Ferguson, former B96 host Erica Cobb appearing on TV, WZSR's new contest, and more!
* * Fans of Bruce Wolf should be smiling this weekend. Bruce Wolf will be the fill-in sports anchor both tonight and tomorrow night on WMAQ-TV. Additionally, tomorrow Bruce Wolf begins as co-host on a Saturday radio talk show with Dan Proft. The show will air this Saturday afternoon (and every Saturday afternoon until further notice) from Noon until 2:00pm on WLS-AM 890. Bruce Wolf, who recently came out of the closet... as a conservative..., has been doing numerous fill-in roles on WLS, but is now officially a weekender there.
* * The Sun-Times columnist & WLS-AM radio host, Richard Roeper will be signing copies of his latest book
"Bet the House: How I Gambled Over a Grand a Day for 30 Days on Sports, Poker, and Games of Chance"
at the Barnes and Noble - Clybourn, located at Webster Place (1441 W. Webster Ave., Chicago) at 7:30pm tonight.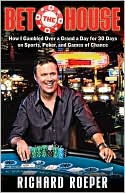 * * Co-host of the B96 morning show, Julian Nieh, will be hosting an event tonight called "Social Friday" at the Fuggedaboudit Nightclub and Lounge (8143 W. 47th St., Lyons). The party goes from 9:00pm-2:00am. There will be giveaways and raffles, including Cubs tickets. Groups of girls get free shots, too! Proper dress required and must be over 21. According to management, if you don't like it, then fuggedaboudit.
* * Earlier this week, WGN's Steve & Johnnie interviewed local television legend, Rich Koz, aka Svengoolie. If you missed it, you can hear the podcast at this link
HERE
.
* * Speaking of podcasts, one of this site's favorite podcasts is that of Margaret Larkin's
"RadioGirl"
interviews. The woman, who is now getting plenty of attention for her interview with Kevin Metheny, is herself the subject of an interview on the latest podcast for "Outside The Loop." You can hear Mike Stephen talk with Margaret Larkin on that podcast at this link
HERE
.
* * Polnet Communications Ltd., the Chicago-based radio and television company closed on its purchase of Milwaukee-area TV station WPVS-LP/Channel 29 this week from Sheboygan Community Broadcasting, LLC for a purchase price of $295,000.00. WPVS also has a construction permit for digital channel 30. Bob Heymann, the Director of the Chicago office of Media Services Group, served as the exclusive broker representing the seller in this transaction. Polnet
recently purchased television station WPVN
in the Chicago area. The company also owns four radio stations in the Chicago market. Obviously, an expansion into the Milwaukee TV market is happening, but is an expansion into the Milwaukee radio market next? Is this purchase of an LP TV station only step #1 of their plan...?
* * The Chicago Blackhawks have captured the attention of numerous adults around Chicagoland these last two years, with their captivating talent on the ice and more fan-friendly work off the ice. Now they want to capture the attention of children, too. Premiering this Saturday at 1:00pm on WMAQ-TV is "Blackhawks TV for Kids." This new television program is aimed at the younger crowd and will feature segments such as:
- Blackhawks players and their dogs,
- a mini-Olympics with 'Hawks players versing each other in events like speed skating and speed popsicle eating,
- and a segment on the antics of team mascot, Tommy Hawk.
The kid in all of us should enjoy this show, too.
* * This Sunday, May 16th, WLFM's "Smooth Jazz Sunday Brunch" with Rick O'Dell will have a special guest with them as they serve up some smooth sounds and delicious breakfast foods at Chicago's Rosebud Prime. Joining the show will be Jonathan Butler, the Jazz singer & guitarist from Cape Town, South Africa, who also just released a new CD this week, "So Strong." If you'd like to be in attendance -- and I can tell you from personal experience, the brunch food is fantastic -- click on this link
HERE
, or simply listen on 87.7 FM on Sunday from 10:00am-2:00pm.
* * This coming Sunday is the premiere episode of the 7th season of "Golf Chicago." The show will air on Comcast SportsNet at 5:30pm on the 16th. The 30 minute magazine-style show is again hosted by WFLD's Jill Carlson. In this first episode, Eric Ferguson of WTMX's uber-popular "Eric & Kathy" morning show, will be a special guest on the shgow's "19th Hole" segment, talking about his love of golf and Tiger Woods' problems. An interview with Irish professional golfer Padraig Harrington and a look at the new & improved Flossmoor Country Club are among the other segments planned. The show features unique content, but is based off of the "Golf Chicago" magazine.
* * WZSR is doing a unique contest to try and boost up a larger following on their Facebook Fan page. It's called "Default for Daughtry." Fans are asked to join the Facebook page called
"I Listen to Star 105.5,"
change their default Facebook picture to one of singer Chris Daughtry, and get other friends to do the same. Winners will be chosen from that Facebook page for a chance to see Daughtry live, get into the show early to see his soundcheck, win autographed merchandise from the band, and even possibly meet Chris Daughtry. (WZSR-FM is one of the two Chicago suburban stations that NextMedia was
forced to put up for sale and into a trust
earlier this year to comply with FCC rules on ownership. The station is still operating normally.)
* * Former WBBM-FM morning show co-host, Erica Cobb, will soon be seen on TV! Erica, along with her husband Jesse Lehman, will be seen on the new NBC/Jerry Seinfeld program, "The Marriage Ref" next week. They will be telling a celebrity panel (Demi Moore, Kelly Ripa and Jim Breuer) the details of their little marital spat, and then the show's judges will have fun with it. The "spat" is that Erica has yet to take her husband's last name, despite being married for over four years. The episode of "The Marriage Ref" with Erica Cobb will air next Thursday, May 20th at 9:00pm on NBC.