Details

Published on Friday, 03 May 2013 21:47
Tonight's News & Notes features 14 local media stories, including: WVON-AM hosting a live panel discussion; WRLR-FM goes to the races; Patti Vasquez returns to WGN-AM; Mary Pat LaRue says goodbye to WDCB-FM; Evelyn Holmes not ready to say goodbye to WLS-TV; CSN Chicago says goodbye to a record NHL regular season; WTTW-TV narrows down its host choices for "Check, Please!"; WYCC-TV gets a new website; David van Dyke says goodbye to the Chicago Tribune; Michael Nagrant says goodbye to the Chicago Sun-Times; David Tamarkin is back at work and writing about food; Lin Brehmer gets to eat some food; Bob Stern turns both 3 and 700; and Scott Mackay gets hitched. All of the details can be read right here...
* * Saturday morning, WVON-AM will be hosting a panel discussion entitled "Getting Beyond the Family Drama." It will take place from 10:00am-1:00pm at WVON's Legacy Center, located at 1000 E. 87th Street in Chicago. The live event will be moderated by WVON-AM midday host Perri Small and will feature panelists Dr. Dexter Voisin, Associate Professor, University of Chicago School of Social Service Administration; Chantelle Bittings, Licensed Clinical Professional Counselor at C. Bittings Therapy; Attorney Marcellus H. Moore, Jr. from The Alliance Law Group, P.C.; and Ramona E. James, Director of Health and Wellness at the Centers for New Horizons. "Getting Beyond the Family Drama" is an opportunity to discuss and resolve health obstacles faced by members of non-traditional family units; particularly children. This event is free and open to the public, with free parking available on the premises. To register, visit this link
HERE
.
* * WRLR-FM 98.3 -- The Voice of Lake County -- will be walking and running for much of the day tomorrow. Starting at 7:00am, WRLR-FM will be broadcasting live from the
2nd Annual Big Hollow 5K Run/Walk
in Ingleside. Special events and award ceremonies are planned throughout the morning. Chicago radio veteran Alison Moran will be the primary host. At 11:00am, following the Big Hollow event, WRLR-FM will be playing the
Forgotten Hits
"Walk... Don't Run Marathon." For six straight hours, the station will be playing the best oldies that haven't been heard on the radio in much too long. This is the second year for the show, which previously aired on WRCO-FM in Richland Center, WI last year, hosted by deejay Phil Nee. For those who may be out of the WRLR-FM transmitter range, the station streams online at this link
HERE
.
* * Comedian Patti Vasquez returns to WGN-AM this weekend. After making her
debut in March
, she comes back for a pair of shows. The first will be this Sunday night at 10:00pm, with the second being the following Sunday night also at 10:00pm.
* * Best wishes and congratulations to Mary Pat LaRue, the longtime Program Director of the College of DuPage's WDCB-FM. As of this week, she is officially retired from the radio station and the College. LaRue had been with the school and station since December 1984.
* * Despite erroneous reports elsewhere, WLS-TV's Evelyn Holmes is still very much working for the station as an assignment reporter. While the station does not comment on contracts, Holmes continued employment was confirmed by a WLS-TV spokesperson. Holmes has been with ABC 7 News since May 2003, joining after being an anchor/reporter with CLTV for seven years.
* * Now that the Chicago Blackhawks are in the post season, Comcast SportsNet Chicago took a look at the television ratings for this past regular season. The last few months were the highest-rated Blackhawks season in CSN Chicago's history. The regular season average rating household was 5.38 (approximately 187,482 households watching per game). That is a 73% increase over last season's 3.11 average household rating. Additionally, this season's average rating is a 94% increase from the final season average two years ago (2.78), a 121% increase from the final season average three years ago (2.44), a 327% increase from the final season average four years ago (1.26), and a 754% increase from just five years ago (0.63). The top 33 highest-rated Blackhawks regular season games in Chicago regional sports network history have all occurred this season with the all-time high posted on March 5th vs. Minnesota (7.86).
* * WTTW-TV's "Check, Please!" does not yet have a new host to replace Alpana Singh, who announced
her exit
at the start of this year. However, the producers have narrowed down their choices to five potential hosts: writer Senam Amegashie, restaurant owner Donny De Castro, chef/journalist/speaker Catherine De Orio, magazine editor Sarah Levy, and chef/restaurant owner Ina Pinkney. Videos of all five hosts can be seen
HERE
.
* * Congratulations to WYCC-TV on the relaunch of their dynamic new website. It can be viewed at this link
HERE
.
* * 30+ year baseball writer/reporter David van Dyke has retired from the Chicago Tribune. His final byline appeared on April 22nd. Many fans may remember van Dyke as one of the members of "The Sportswriters" sports talk show on WGN-AM, a precursor to "The Sportswriters on TV."
* * The Chicago Sun-Times is in the process of ending their long running Weekend section, to replace it with a very different type of section, with material coming from other outlets. That also means that some people will be released. Among those now out is food critic Michael Nagrant. His food/restaurant columns appeared in the Weekend section since he replaced Pat Bruno as the Sun-Times food reviewer in 2011. Nagrant was a freelance employee, so with the cancelling of his section, his contract with the Sun-Times is no more. Supposedly, the Sun-Times have told him that they would still consider using him as a freelancer at some point in the future. Further proving that he may be done as a food critic, he ended his anonymity by sending out a
Twitter picture of his face
.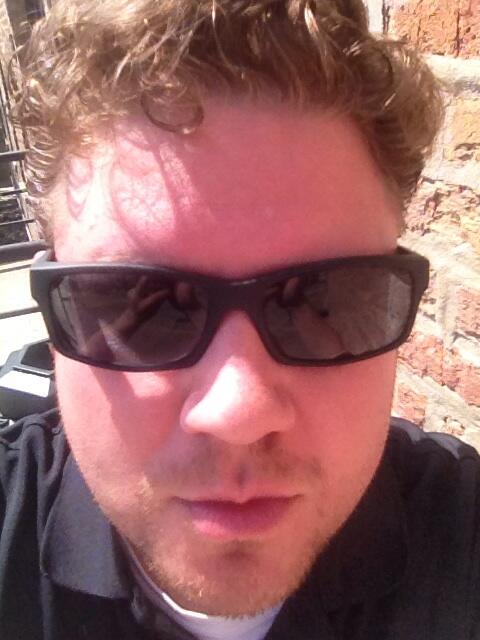 * * Speaking of food writers, former Time Out Chicago writer David Tamarkin has found a new home at the Conde Nast Traveler. His first food article can be read
HERE
.
* * On Monday, Elysabeth Alfano will host a new kind of show called "The Dinner Party" at City Winery Chicago (1200 W. Randolph Street). Alfano invites three special guests and a celebrity chef who cooks for them. The special guests for this live show will be WXRT-FM morning host Lin Brehmer, CandidCandace.com Editor Candace Jordan, and Associate Director of the Timeline Theatre Nick Bowling. The chef will be NOMI's Sean Pharr. The event will be filmed before a live audience. To be part of the audience, tickets can be purchased at this link
HERE
.
* * The Vinyl Schminyl podcast recently turned three years old and had its 700th podcast. The show's host, former Chicago radio DJ Bob Stern, celebrated the milestone by
writting a blog
about the origins of his daily show. Stern was also interviewed about his show on the SPFreaks blogsite, which can be read
HERE
.
* * Congratulations to WERV-FM/95.9 The River morning host Scott Mackay. He and his girlfriend Susie are now husband and wife. Best wishes to the happy couple!