Details

Published on Thursday, 09 May 2013 19:40
In the late 1970's and well into 1980's, WLUP-FM found success using a lovely spokesmodel named Lorelei. In 2005, the station decided to try that marketing gimmick again by starting up a new one-year role for a local model, who will be the Loop Rock Girl. The very first Loop Rock Girl was the stunningly beautiful blonde Chicagoan, Erica Gustafson.
Erica reigned as the original Loop Rock Girl from May 2005-May 2006.
At that time, her biggest concern was fighting off drunk men in bars who wanted to get too close to her. Now, just seven years after leaving her WLUP-FM job as spokesmodel, she is fighting against something much more serious: chronic Lyme disease.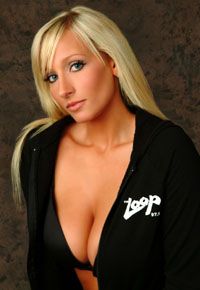 After many years of mysterious illnesses, doctors recently found that Erica has late stage Chronic Lyme disease, along with a few other serious co-infections.
Lyme disease is most often spread by a bite from an infected deer tick. There are numerous early symptoms, including fever, headaches, fatigue, and rash, which are usually easily treatable with antibiotics. However, if left untreated, the disease becomes much more serious and can attack the joints, heart, and central nervous system. It is not known when Erica was first infected with Lyme disease, but it is thought to have been many years ago and never diagnosed.
There is no easy cure for chronic Lyme disease. Treatments for the disease are far from conventional. Many insurance companies refuse to pay for Lyme disease costs and many doctors will not even treat patients with it. In the United states, there are now are more cases of Lyme disease than HIV. With so many Lyme sufferers unable to get the help they need, a great many of them pass away.
On top of the Lyme disease, Erica is also battling two other parasites which are attacking her immune system, blood cells, and vital organs, Babesia and Bartonella. These potentially fatal co-infections often accompany Lyme.
Erica's days are filled with such debilitating symptoms, including seizures, tremors, muscle twitching, speech impairment, headaches, stomach pains, heart palpitations, and more.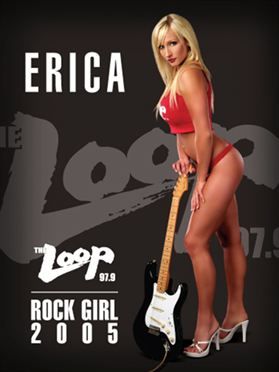 As terrible as her health battles are, her battles with a broken health care system has been equally tough on her and her family. Her medical bills have become staggering.
Her husband Paul Valker -- who met and fell in love with Erica when she was the 2005 Loop Rock Girl and he was a Senior Account Executive with WLUP-FM/WKQX-FM -- has set up a FundRazr account to help raise money for his wife's treatments. They are hoping to raise $25,000.
Those who wish to contribute can do so at this page
HERE
, which also contains a letter from Paul Valker explaining the difficult situation Erica is now in.
Although the station has changed ownership since Erica's days there, WLUP-FM's website has also set up
a page for Erica
, detailing out her struggles and adding a widget for the FundRazr page of her's.
More information on Lyme disease and the difficulties patients face can be found at these links
HERE
and again
HERE
.
May is Lyme Disease Awareness month. Over the next two days in Chicago, there will be many Lyme Awareness Protests taking place. More details on these events can be found
HERE
.
Erica and her husband Paul, both native Chicagoans, currently live in Los Angeles.