Details

Published on Wednesday, 06 November 2013 15:32
WGN-AM today
announced
that Chicago Cubs radio color analyst Keith Moreland will not be back next season. Moreland has decided to step away from the broadcast booth to spend more time with his family in Texas.
Keith Moreland was
hired
by WGN Radio and the Cubs in February 2011. He bravely accepted the role of filling the void left by the death of beloved Cubs radio announcer Ron Santo, who had
passed away
in December 2010.
In his three seasons in the broadcast booth sitting alongside play-by-play announcer Pat Hughes, Moreland was able to fill the shoes of Santo and develop his own fanbase of Cubs radio listeners who enjoyed his baseball commentary and knowledge. Despite calling a Cubs team that delivered little to be excited about on the field, Moreland was able to keep an upbeat attitude on the air.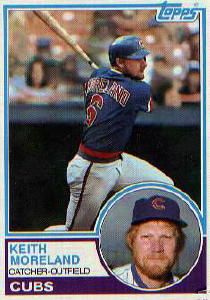 Keith Moreland played twelve season in Major League Baseball, half of which was spent as a member of the Chicago Cubs. (He also spent time with the Phillies, Padres, Tigers, and Orioles.) He was a key part of the Cubs 1984 National League Eastern Division championship team, although his best season with the team was 1985, when he batted .307, with 14 home runs, 106 runs batted in, and 12 stolen bases. During Moreland's six years as a Chicago Cub, the outfielder (primarily) also played third base, first base, and even catcher. In 902 games as a Cubbie, he had a batting average of .281, hit 100 home runs and had 491 runs batted in.
Additionally, Moreland has the honor of being immortalized in the classic Steve Goodman song "A Dying Cubs Fan's Last Request." He was mentioned by name (along with Ernie Banks and Jack Brickhouse) within the popular song's lyrics. Goodman wrote:
"Have the Cubbies run right out into the middle of the field,
Have Keith Moreland drop a routine fly
Give everybody two bags of peanuts and a frosty malt
And I'll be ready to die."
Keith Moreland came to the Chicago Cubs broadcasting booth with a great deal of broadcasting experience already under his belt, in addition to his years of experience as a player. For sixteen years, Moreland has been the radio color analyst for the University of Texas Longhorns baseball team, as well as the radio color analyst for the UT Longhorns football team for the past nine seasons. Moreland is himself a former UT Longhorn. While a student at the University of Texas, Moreland was a three-time All-American and helped lead the Longhorns to three NCAA College World Series berths, including a national championship in 1975. In 2008, he was inducted into the College Baseball Hall of Fame and last year, the University honored Moreland by retiring his #3 jersey.
For a few years, he had done some fill-in work on Cubs television broadcasts for color analyst Bob Brenly and on Cubs radio broadcasts for Ron Santo. Moreland's familiarity with calling Cubs games helped make him the favorite choice to sit alongside Pat Hughes in the broadcast booth after the passing of Santo.
Born Bobby Keith Moreland, he has gone by the name of Keith his entire life. The only other name he is known by is "Zonk" -- a nickname he picked up while a player.
The long baseball season meant many months on the road or in Chicago. This also meant long stretches of time away from his wife and home in Austin, TX. This played into Moreland's decision to step away from the Cubs' broadcast booth.
In today's announcement, Moreland wrote: "I would like to thank the fans, the folks at WGN Radio, my colleagues in the booth, the Ricketts family, and the Cubs for this great opportunity. After spending three years doing it, I've simply decided that I want to spend more time at home in Texas."
Said Moreland's on-air partner Pat Hughes today: "I immensely enjoyed my three years with Keith. He was fun to be around, insightful, and a team player. Like our listeners, I feel like I learned a little more about baseball each day from him. I wish Keith all the best and I will miss him greatly."
For the second time in just under three years, WGN Radio is now searching for their next baseball color analyst.