Details

Published on Friday, 18 July 2014 17:05
This weekend's News & Notes features 15 local media news items, including: Eddie V returns to local radio; Brian Hanley returns to The Score; Drew Horowitz gets promoted; Jason Skaggs is recognized for his creativity; The Game reschedules; Adam Hoge's baby scare; Mike Stephen rocks out in his garage; 103.5 Kiss FM's Fred makes a Top 30 list... unfortunately; Fook exits his job... fortunately; Ana Belaval gives her view on "The View"; Gaynor Hall has a son; Bill Kurtis flips some burgers; Paula Faris gets a promotion; Tribune Broadcasting re-signs an advertising deal; and Chicago media veteran George Sarantos passes away. All these stories and their details can be read below...
* * Eddie & JoRo? Former local radio superstar Ed Volkman returned to the Chicagoland radio airwaves this morning for the first time in over a year and a half. WZSR-FM/Star 105.5 morning show co-host Tina Bree was scheduled to be off of work today. Star 105.5 host Joe Cicero then invited "Eddie V" to head up to Crystal Lake in the early morning hours and be the Star 105.5's morning show co-host of the day alongside him. Volkman was heard on the air for Cicero's entire 5:00am-10:00am show today. Said Volkman on his Twitter account
earlier today
: "Having a blast with @radiojoecicero on @Star1055 this morning! Almost forgot how much fun this is! I've had 'Jock-itch'!"
* * At the start of this summer, WSCR-AM/670 The Score had the contracts of three of its daytime hosts up for renewal. The first one was with afternoon star Dan Bernstein, who
renewed his contract
at the start of last month. The second was with morning show co-host Brian Hanley, the former Chicago Sun-Times sportswriter who has been with the station in various roles since its start in 1992. Hanley and CBS Radio came to terms on a new deal this month and he will continue to be a key part of The Score's morning program alongside Mike "Mully" Mulligan. For the sports talk station contracts this summer, that's two down and one to go. The third WSCR-AM employee whose contract is not yet renewed is midday host Dan McNeil, as those contract negotiations are still not able to be finalized.
* * Hubbard Radio today announced that Chicago-based EVP/COO Drew Horowitz has been promoted to President/COO, effective immediately. Chairman Ginny Morris, who recently took over as CEO, will remain in her roles. Horowitz had been with Bonneville International since 1992 and moved over to Hubbard Broadcasting in spring 2011 when many of the Bonneville radio stations, including Chicago's, were sold to Hubbard. Prior to that, Horowitz worked in Chicago for WFYR-FM, WUSN-FM, and Lakeshore Communications. In today's
announcement
, Horowitz said: "I am honored to have this wonderful opportunity to work more closely with Ginny and to be part of this extraordinary family-owned company."
* * The 2014 Radio Show, which takes place in September, held a Creative Edge Panelists Challenge last month. The annual radio convention was seeking one program director, one digital director, and one production director. The winners would receive complimentary registration to the 2014 Radio Show, a $1,000 travel stipend, and participate together in a panel discussion at the event. One of the three winners announced this morning was multi-award-winning WGN Radio Commercial Director Jason Skaggs. Another of the winners was former WLUP-FM Program Director Rick Balis.
* * Starting Monday, July 21st, WGWG-LP/The Game 87.7 is making a slight change to its midday schedule. The "Kap & Haugh" show (with David Kaplan and David Haugh, among others), which has been running for four hours from 9:00am-1:00pm, will be reduced by one hour, ending at Noon. The other WGWG-LP midday show "Griff, Quigs and Finfer" (Howard Griffith, Alex Quigley, and Ben Finfer), which had been only two hours, will now grow to three hours, beginning at Noon. No other changes to the little-heard sports station are taking place on Monday.
* * Warm thoughts go out to Adam Hoge, the former WSCR-AM/670 The Score Bears reporter who recently joined WGWG-LP/87.7 The Game. While on a vacation with his wife and visiting family in northern Wisconsin earlier this month, Hoge's wife, who was seven month pregnant, felt pains and went in to an unexpected early labor. Their baby -- a tiny boy named James Matthew -- was born. Because he is so premature and still somewhat weak, he will be in the Wausau, WI hospital for quite a while. The Hoges are staying with family up north to be close to their baby. Best wishes to the Hoge family, and especially, continued good health and strength to baby James.
* * WLUW-FM's "Outside The Loop Radio" (OTL) and host/creator Mike Stephen are taking the show on the road. This week's episode is the first in what Stephen is calling the "OTL House Party Tour." The concept behind that is to occasionally take the radio show/podcast into different areas of the city and into different Chicagoans' homes. For this first road show, Stephen didn't make it to far from inside his home. The newest OTL was done in his garage. His guests in his garage included 1st Ward Alderman Joe Moreno, Chicago Mayoral candidate Dr. Amara Enyia, DNAinfo Chicago reporter Heather Cherone, 120Sports.com and WGWG-LP/The Game 87.7 weekend host Dylan McGorty, and Chicago Blues harmonica player Bob Kessler. Kessler also happens to be a news reporter/producer for Rivet News Radio, a news reporter/anchor/writer for WGN-AM, and a producer for the "Greensense Radio Show" segment on WBBM-AM, but for this OTL show, Kessler's musical talents are the focus. The show can be heard on demand
HERE
. "Outside The Loop Radio" started as a podcast in September 2006 on its website OutsideTheLoopRadio.com. In March 2007, the show also began airing on WLUW-FM 88.7, and is still broadcast there every Thursday morning at 10:00am. The show, nicknamed "Chicago's Almost Above-Ground Audio Magazine," covers a broad range of topics with a strong local and independent slant. Mike Stephen is a former producer for WGN Radio.
* * WKSC-FM/103.5 Kiss FM morning show host Fred, aka "Brotha' Fred," aka Christopher Frederick, made a list of Top 30 radio personalities. That's the good news. The bad news was that the list was titled "
The Top 30 Not So Good Looking Radio DJ's of 2014!
" Chicago radio's Fred came in at #10. Coming in at #17 on the list is Java Joel Murphy. Even though Murphy was fired from WKSC-FM in January 2005, the list still claimed he was at Chicago's Kiss FM station. (Java Joel has been successfully working in Cleveland, OH since 2006.)
* * Former WKQX-FM/Q101 DJ Fook is heading to a new radio job... somewhere. Since 2011, Fook has been hosting mornings at Tucson, AZ's KFMA-FM. Fook and his current co-host Mishell have exited as of today. Station management claims they left for "a tremendous opportunity" which has not yet been revealed. Fook was heard on Chicago's Q101 from 2001 to 2007.
* * As first written about
HERE
, WGN-TV's Ana Belaval was given a chance to have an on-air try-out for ABC-TV's "The View" this past Tuesday. Belaval says the show's regular three co-hosts, two of which are leaving soon, were very kind to her backstage. However, when the cameras were on, it was clear they did not wish to have a guest co-host there and barely allowed her to speak. The following morning, Belaval talked about her experience in New York on the WGN Morning News, which can be seen
HERE
.
* * Congratulations to WGN-TV reporter and CLTV anchor Gaynor Hall. On Tuesday night, Hall and her husband welcomed into the world their first child -- a baby boy named Avery, weighing in at 7 pounds, 3 ounces. Best wishes to the growing family!
* * Has former WBBM-TV/CBS 2 news anchor Bill Kurtis given up journalism to become a hamburger cook? It will seem that way for a day next week. On Tuesday, July 22nd, Chicago's Bottlefork Bar & Kitchen (441 N. Clark St.) will have Kurtis come in for the lunchtime crowd and be the restaurant's special "Burger Chef For The Day." The famed newsman will be there from 11:30am-2:00pm, serving up Bottlefork's special of the day: a Bottlefork bacon burger with Vermillion River Blue cheese, Kennebec fries, and a housemade soda -- all for $19.99. The beef in the burgers will be coming from the Tallgrass Beef Company, which Kurtis co-owns. While this midday special event is going on, a video of the movie "Anchorman," which Kurtis narrated, will be playing in the background.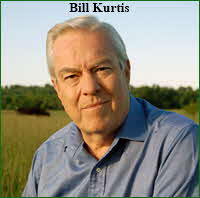 * * Former Chicago television sports anchor Paula Faris' star continues to rise. Faris has just been promoted to news anchor of the weekend edition of ABC-TV's "Good Morning America." She started working with ABC News on January 2, 2012 as co-anchor of ABC-TV's overnight "World News Now" newscast. One year after she began, she moved to a new position within ABC News as a correspondent and reporter, to allow her to have more normal hours to be with her children (then two kids, now three). Faris had previously worked at Chicago's WMAQ-TV/NBC 5 from November 2005 until December 2011.
* * Television advertising sales firm Cox Reps
announced today
that it has entered into new multi-year contract with Tribune Broadcasting to be the exclusive national sales representative for all of their media properties. This deal encompasses national sales for all 42 Tribune-owned television stations, WGN America, Antenna TV, THIS TV, Chicago's WGN Radio, and Tribune Studios. The deal comes as no surprise, as CoxReps has been working with Tribune Broadcasting for over 30 years.
* * Longtime Chicago audio engineer George Sarantos passed away this week. He had worked in Chicago media for over 35 years, most recently working sound for WFLD-TV/FOX 32. He had previously worked for WMAQ-TV/NBC 5, WLS-AM, and WOJO-FM. He also had played guitar in the FOX band, made up of employees and friends from WFLD-TV. Services will be held this coming Monday in River Grove.