Details

Published on Tuesday, 26 August 2014 17:30
Today's News & Notes features 16 local media news items (plus one note), including: Jackie Robinson West scores big for WLS-TV; CSN Chicago and WGN-TV will each have live coverage of the Jackie Robinson West parade and rally; 120 Sports starts a new football talk show; Wes Venteicher covers the ACA for the Chicago Tribune; The NABJ honors some Chicago media outlets; Chet Coppock returns to covering Notre Dame Football; Chet Coppock is Ken Sevara's guest this weekend; Dave Plier moves to afternoon drive on Monday; WCKG-AM gets a new OM and old branding; Mario Lopez gets an extension; Fook gets a new radio job in a new city; Catie Cryder gets a new promotion; Roman Modrowski gets a new wife; Katherine Kelly gets a new husband; and Dan Proft has a tough loss. All this and more can be read below...
* * The biggest local sports story of the summer (and quite probably, the year) is Chicago's Jackie Robinson West competing and excelling in the Little League World Series in Williamsport, PA. The team went on to win the United States Championship. Sunday afternoon's live television broadcast of Jackie Robinson West competing against a South Korean team for the World Championship was a huge hit for WLS-TV/ABC 7 (even though Jackie Robinson West ultimately fell short). It should come as no surprise that it was the most-watched television program in the Chicago market for Sunday afternoon, peaking near the end of the game with a 19.3 rating (approximately 675,500 households).
* * Comcast SportsNet Chicago will have live coverage of the Jackie Robinson West Parade and Rally on Wednesday morning, beginning at 10:00am. The station's website, CSNChicago.com, will also be providing a live video stream of the Millennium Park rally in its entirety. CSN Chicago's parade and rally coverage will be hosted by Chuck Garfien and White Sox legend/2014 Baseball Hall of Fame inductee Frank Thomas in Millennium Park, with Kip Lewis providing live field reports and interviews.
* * WGN-TV and its cable sister-station CLTV will also have live coverage of the Jackie Robinson West team's parade and rally tomorrow morning. Their coverage will begin earlier on Wednesday, at 9:00am. WGN News' 9:00pm news anchors Mark Suppelsa and Micah Materre will host the coverage, along with WGN-TV sports anchor (and
author
) Rich King. WGN-TV reporters will also be positioned throughout the parade route and at the rally to deliver live updates and interviews. Along with the coverage showing on WGN-TV and CLTV, the parade and rally will stream live on the station's website, WGNTV.com.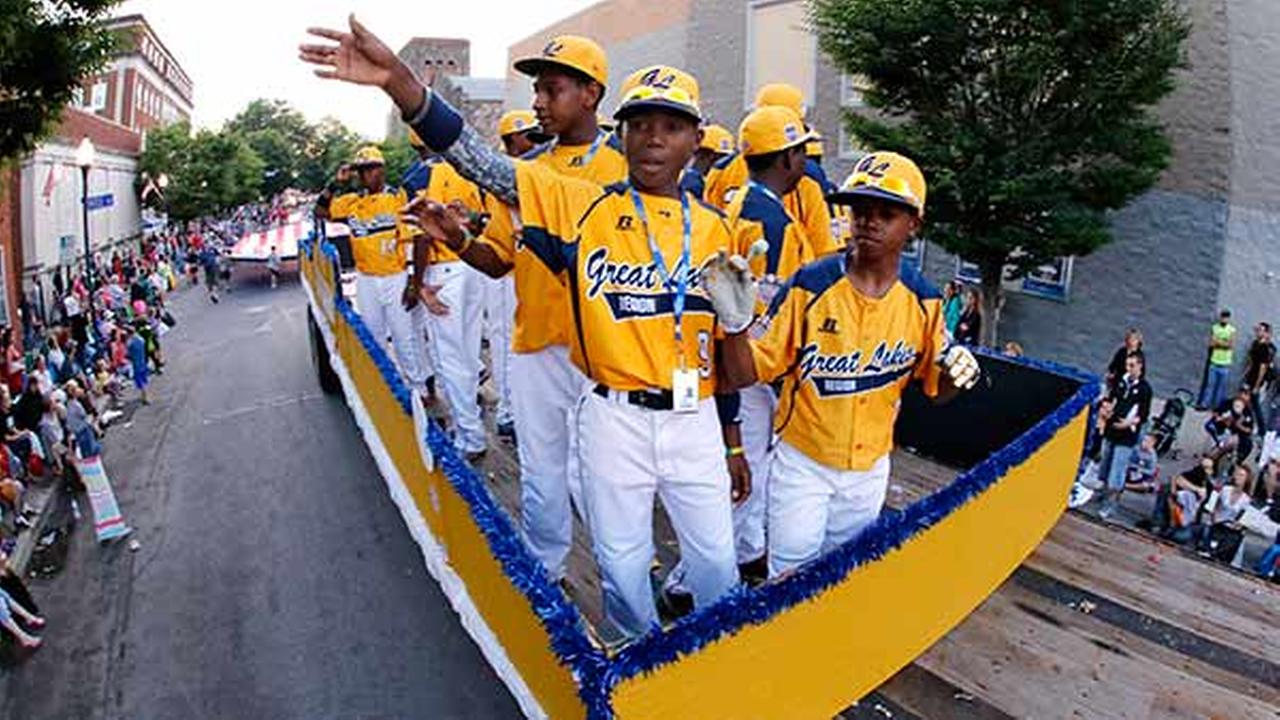 * * 120 Sports -- the Chicago-based, all-digital sports network with major connections and financial backing -- launched its third live program this week: "120 Football Fix." The show is scheduled to air all year long, even when it's not football season, from 11:00am-1:00pm. "120 Football Fix" is hosted Eric Edholm, and features contributions from former NFL players David Carr, Eddie George, Bryant McFadden, Ovie Mughelli, and Amani Toomer. The only problem with the show is that 120 Sports has not yet reached an agreement with the NFL to show footage from games or even use likenesses that are NFL property. 120 Sports
launched in July
with a two-hour morning show and an eight-hour show in evenings. The new midday show brings the online/app sports network closer to its goal of having 24/7 live programming.
* * The Chicago Tribune has moved Wes Venteicher to a new beat. The former TribLocal reporter is now the newspaper's dedicated reporter covering the Affordable Care Act (ACA, or as branded by Republicans, "Obamacare"). A
government
grant is supposedly helping to pay Tribune Publishing to have a dedicated Chicago reporter for ACA news and information. Venteicher has been with the Tribune since June 2013.
UPDATE: The word "government" has been struck out from the above news item, which was exclusively reported here first. The grant paying for Venteicher to cover the ACA comes to the Chicago Tribune from a private non-profit organization, who receives its money from yet another private non-profit organization, who receives its funding from various sources, including private donors and the government. That second organization's purpose was originally to get Californians signed up for the ACA, but they have since expanded their goals beyond California, hoping to influence many to sign up for ACA on behalf of the government and paint the program in a positive light. Regardless of exactly how and why the money is being funneled to the Chicago Tribune reporter covering ACA, this still gives the impression of a conflict of interest. Whether there actually is a conflict or not should be debated.
* * Earlier this month, the National Association of Black Journalists announced the winners of its 2014 Salute to Excellence Awards. These awards honored media work from print, television, radio, online, photojournalism, and public relations from the past year. There were a few Chicago winners of this year's awards. The Chicago Sun-Times was honored for its report "This Should Hurt Everybody" by Maudlyne Ihejirika and Becky Schlikerman. Ebony Magazine took home five awards for its work on Sports, Business, Page Design, Graphics, and a Specialty article. WBEZ-FM won two awards, one for an investigative report entitled "In Cook County courts: Not guilty? Go to jail anyway" by Robert Wildeboer and Cate Cahan, and one for a public affairs segment entitled "Is the face of marriage equality in Illinois too white?" by Natalie Moore and Derek John.
* * On Saturday afternoon, Notre Dame Football returns to WLS-AM, as the Fighting Irish take on the Rice Owls. This also means the return of WLS-AM's exclusive pre-game show show, hosted by sports broadcasting legend Chet Coppock. The pre-game show begins at 1:00pm, with the game beginning at 2:30pm. This is Coppock's 8th year hosting Notre Dame pre-game and post-game shows on WLS-AM.
* * Speaking of Chet Coppock, the sports broadcasting legend will be the special guest this weekend on Ken Sevara's "Fly By Night" radio show, heard Saturday nights (Sunday morning) from Midnight to 1:00am on WIND-AM/AM 560 The Answer. Coppock and Sevara will be talking about Coppock's
new tell-all autobiography
, "Laying It On The Line."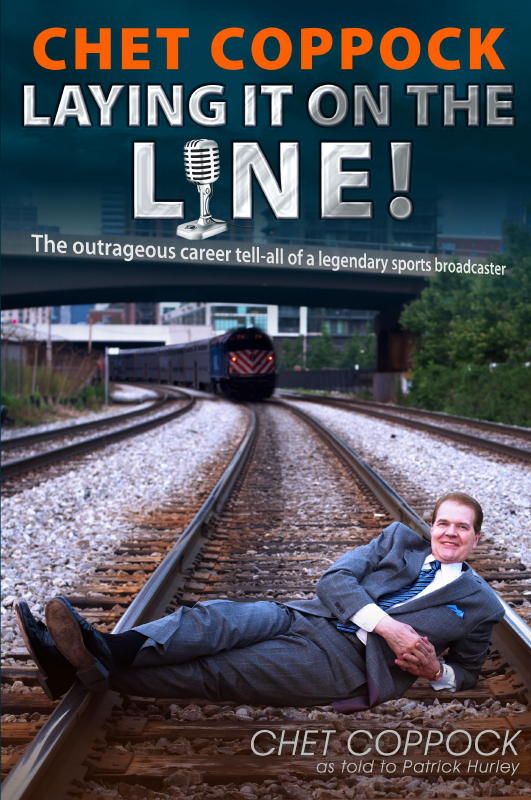 * * Fans of WGN-AM weekend overnight host Dave Plier will get a chance to listen to him in the daylight next week. On Monday (Labor Day), Plier will be filling in for Bill Leff and Wendy Snyder's afternoon show, which on Monday will begin after the Chicago Cubs game ends.
* * West suburban WCKG-AM has promoted John Spataro to Operations Manager. He joined the station at the end of April of this year as a producer and board operator. Spataro previously spent a year working at a cluster of radio stations in Princeton, IL as a news anchor. Additionally, WCKG-AM has officially dropped its branding of "1530 The Blaze," which it began using in January. Instead, the station is simply branding itself AM 1530 WCKG, which was its former branding. It also has stopped airing twice-hourly news reports from Glenn Beck's news network "The Blaze," choosing to instead deliver local news headlines and traffic reports each hour.
* * For those not thrilled that WLIT-FM/93.9 MYfm has a piped-in, pre-recorded, nationally syndicated show hosted by Mario Lopez each evening, you may want to skip past this news item... Clear Channel Media + Entertainment today announced that they have signed Mario Lopez to a new and expanded long-term agreement. In addition to hosting the weeknight show "ON with Mario Lopez" with his wife/co-host Courtney Lopez, they will be creating an "iHeartRadio Countdown" weekend program for him to host for Hot AC stations (WLIT-FM), ranking the Top 20 Hot AC songs. There will be plenty more Mario Lopez hosted programming on the radio, both locally and nationally, for at least the next few years.
* * Former WKQX-FM/Q101 personality Fook now has a new radio job. He has taken over middays at KHTB-FM, an alternative rock station in Salt Lake City, UT. Since 2011, Fook has been hosting mornings at Tucson, AZ's KFMA-FM. Fook and his current co-host Mishell voluntarily
exited
at the end of last month to take this new job at KHTB-FM. Said Fook in yesterday's announcement: "Personally, I'm thrilled to be on a station playing true, new, alternative music. We're excited to bring a morning show to middays and can't wait to get all up in Salt Lake's biz. I hope everyone is ready to get extra-weird." Fook was heard on Chicago's Q101 from 2001 to 2007.
* * Congratulations to Catie Cryder, who has been promoted up to Digital Sales Manager for Hubbard Radio Chicago. She had been an Integrated Marketing Consultant with Hubbard since April of this year. Cryder has worked in marketing and sales for numerous radio stations in and around Chicago, including ones owned/operated by NextMedia, Digity, and of course, Hubbard. She also worked on the air for a time at WCCQ-FM.
* * Congratulations to ESPNChicago.com Senior Editor (and former Sun-Times sportswriter) Roman Modrowski. Over this past weekend, he and his girlfriend Jenny Foley became husband and wife. They have been engaged since August of last year. Best wishes to the couple.
* * Congratulations to Katherine Kelly -- the Chicago-based Oprah Radio Operations Manager, and one-time news anchor/producer with WUSN-FM/US99.5 and the former WIQI-FM/FM News 101.1. After a brief engagement, she and her boyfriend Sean Murphy are now married. Best wishes to the Murphys.
* * Condolences to WLS-AM's Dan Proft on the death of his mother. Carol Proft passed away on Saturday at the age of 70. Services will be held Wednesday and Thursday.
* * Advance notice: CRM's newsroom will be closing early for Labor Day weekend, with no news articles being posted up from Thursday through Monday. All other functions of the website will remain open, including the message board.