Details

Published on Monday, 28 December 2015 09:30
Just over three years after its launch, Rick O'Dell has
announced
that he will have to shut down his highly successful website and online radio station, SmoothJazzChicago.net. Its final day of operation will be this Thursday, December 31st.
Less than two weeks ago, the Copyright Royalty Board (CRB) announced new and higher statutory rates that webcasters will be forced to pay for the years 2016 through 2020. While the larger Internet radio streaming corporations should be able to absorb the rate increases, smaller online stations, like
SmoothJazzChicago.net
, cannot possibly pay these massive royalties and stay in existence.
Kurt Hanson, founder and CEO of the Chicago-based webcast company AccuRadio and Publisher of the RAIN newsletter,
said
after the CRB decision was made public in mid-December: "For a webcaster like AccuRadio, which works hard to monetize its audience through banner ad networks and audio ad rep firms, but is just in the early days of building a direct sales force, this rate will eat up close to 100% of our total revenues. But I'm more worried about smaller webcasters who are serving a niche audiences, like folk music or classical music or jazz -- this rate could very well drive all of them out of business."
Hanson's words were quickly prophetic, as the new CRB rates have contributed to the premature end of SmoothJazzChicago.net.
The higher royalties were the main factor, but O'Dell says his new full-time job and workload as Program Director for WRME-LP//87.7 MeTV FM also contributed to the decision. He had already been forced to stop working his live 9:00am-3:00pm midday shift, keeping only his weekend "Smooth Jazz Sunday Brunch" show.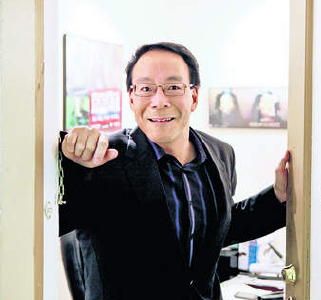 In O'Dell's announcement this past weekend, he wrote: "Sadly, when you combine the two factors, the diminishing amount of available time to maintain the quality of SJC at a level I feel our listeners deserve and the increasing expenses related to performance royalties, there is no longer any uncertainty about the decision I have to make. I cannot continue to operate SmoothJazzChicago. With a heavy heart, I have decided to shut down the station on December 31, 2015."
He added: "I realize this is a major disappointment to all of us, and I regret having to do this. We've grown more than 300% since we launched back in November of 2012, and the arrow was still pointing up. The support we've gotten from listeners and artists has been extremely gratifying. We proved the audience for Smooth Jazz music is still large and vibrant. SmoothJazzChicago.net has been a lot of fun -- I only wish it could've gone on longer."
O'Dell reiterated those thoughts to CRM, saying: "Yes, the royalty rate increase was the deciding factor in closing down SmoothJazzChicago.net. I truly was on the fence about it until the announcement came down from the Copyright Royalty Board. We're actually kind of a victim of our growth over the past three years. We've gone up in the rate tiers for both streaming and royalty payments because our audience has grown. Unlike the case of terrestrial radio, additional listeners in internet radio cost you money, because you need to increase your bandwidth once you reach certain thresholds. On top of that, royalties also go up when you increase your total listening hours and revenue. It's a tough hill to climb. We were doing OK, but as a pureplay webcaster, there was no way we could overcome the significant increase in the royalty rate come January 1, 2016."
With no real terrestrial radio outlet for Smooth Jazz or Smooth Adult Contemporary music on Chicago's radio airwaves, SmoothJazzChicago.net had been a haven for fans of that genre music. O'Dell and SmoothJazzChicago.net also helped promote numerous live music events of top artists from the station's wide playlist. Additionally, the station was home to a pair of longtime voices well-known to Chicago Smooth Jazz fans from its days on WNUA-FM and WLFM-LP: Bill Cochran and Scott Adams, who both host weekend shows on SmoothJazzChicago.net.
Although it was targeted for Chicago audiences, the fans and listeners of SmoothJazzChicago.net ranged far beyond the Chicago market. Streaming was coming from all across the country, as well as worldwide. The streaming numbers grew monthly and annually.
The loss of the Internet radio station -- with it's high-quality sound and programming, plus with O'Dell's deep connections and respect within the Smooth Jazz industry -- will be felt far and wide.
Chicago broadcasting legend O'Dell is a life-long Chicagoland resident and has been a staple on the Chicago-area radio airwaves since 1981. He is best known for his 19 years at WNUA-FM during its Smooth Jazz era where he served as a DJ, Music Director, and Program Director. More recently, he served in those same roles on the short-lived, but impressive WLFM-LP/Smooth 87.7. This past October,
Weigel Broadcasting hired
the local radio veteran as the new Program Director for WRME-LP/87.7 MeTV FM, returning O'Dell to the 87.7 frequency.
SmoothJazzChicago.net was
launched in November 2012
. Since Venture Technologies, the owners of WLFM-LP, decided in April 2011 to take a cash offer from another company to allow them to use the 87.7 frequency, the Smooth Jazz/Smooth AC format had been off the Chicago airwaves, despite decent ratings and a large, loyal fanbase. O'Dell -- who served as midday host, weekend specialty show host, Program Director, and driving force behind the station -- spent months trying to find another Chicago radio outlet for the format. Unfortunately, O'Dell was turned down from every company he spoke with. In today's corporate-owned, ultra-conservative, PPM-dictated radio world, that has most of Chicago's radio stations owned by just a few companies, none of which want to air anything that isn't overly-focus grouped in advance and already airing in numerous other markets, Smooth Jazz/AC didn't fit any company's plans. It wasn't PPM-friendly enough.
Instead, O'Dell decided to take matters in own hands and take the Smooth Jazz format directly to fans via the Internet. He personally programming the music that streamed 24 hours each day. O'Dell's own collection of over 4,000 CDs of Smooth Jazz and related genres became the foundation of the music programmed.
The station's amazing success can be directly attributed to O'Dell's talents and popularity.
Sadly, that same success has doomed the station, as it will soon cost too much to maintain, thanks primarily to increased royalty rates.
Nobody seems more upset about the loss of SmoothJazzChicago.net than O'Dell himself, though.
Showing gratitude to his listeners, O'Dell said in the announcement: "'Thank you for three great years' barely covers how I feel. Know that your support throughout the past three years has meant the world to me."