Details

Published on Thursday, 04 February 2016 12:00
Tribune Publishing made a stunning
announcement
Thursday morning. Michael W. Ferro, Jr. and his investment firm Merrick Media, LLC have purchased over $44 million of Tribune Publishing shares, becoming the company's largest stockholder with over 5.22 million shares. Additionally, Ferro has been named Non-Executive Chairman Of the Tribune Publishing Board Of Directors. Although he remains the majority owner of the Wrapports -- the parent organization of the Sun-Times Media, Chicago Sun-Times newspaper, Sun-Times Network, Chicago Reader, Aggrego, and other related companies -- he has stepped down from his Chairman roles and will no longer have any direct influence over Wrapports day-to-day operations.
Technology entrepreneur Ferro co-founded Click Commerce (originally Click Commerce) in 1996, a software company that he ended up selling for close to $300 million in 2006. In 2007, he started up his own private equity firm, Merrick Ventures, named after his hometown of Merrick, NY. Ferro and Merrick Ventures would invest in struggling companies, place Ferro in charge, and attempt to turn them around for a profit... to Ferro. When stock prices in the company begin to fall, Ferro pulls out and moves on to his next company. Among those companies was Merge Healthcare, a medical imaging and technology company that was eventually purchased by IBM for $1 billion. Merrick Ventures' name recently became Merrick Media.
In 2011, Ferro led an investment group to take over struggling Sun-Times Media. The group named themselves Wrapports LLC and purchased Sun-Times Media for a little over $20 million, but with no assumption of debt from the previous ownership group.
There were numerous investors in the group, but Ferro was the largest and placed himself as Chairman and CEO of Wrapports and all of the Sun-Times Media companies it owned and later created.
Since taking over the Sun-Times at the end of 2011, Ferro's reign has been a tumultuous one. Large amounts of money were spent on projects that have failed. Revenues are down, while readership of the newspaper have fallen even more. Its websites are an unreadable mess of pop-up/pop-over ads. Sun-Times Media was forced to have rival Chicago Tribune take over the printing and distribution of the Chicago Sun-Times. Sun-Times Media had to sell all of its suburban daily and weekly newspaper properties to the Chicago Tribune in 2014.
Controversies have been a constant for Ferro, including having the Sun-Times endorse Bruce Rauner for Governor, even though the newspaper years ago stopped endorsing political candidates and have not endorsed anyone else since. Rauner was among the big investors in Wrapports, quietly selling his shares to Ferro when he began his run for Illinois Governor. A top political writer was forced out from the Sun-Times after he co-wrote a factual article describing less-than-flattering business practices of Rauner's. In both of these controversies, Rauner's friendship and business relations with Ferro were cited as the main reasons behind them.
While his time leading the Sun-Times has been questionable, he has been able to keep the newspaper and its brand alive in a period where many print publications nationwide have been folding or going digital-only.
Investing in Chicago news operations is something that has long interested Ferro. Prior to purchasing Sun-Times Media, Ferro was an investor in the now-former Chicago News Cooperative (CNC) -- the local, non-profit news organization which published news on its own website and for the New York Times. Ferro was not the CNC Chairman, but did sit on its board after his investment.
Once again, a sizable investment into a news organization has placed Ferro in a position of power within it.
On Wednesday, Tribune Publishing closed the private placement transaction with Merrick Media, issuing 5,220,000 shares of its common stock to Merrick Media for a purchase price of $44.4 million. Ferro agrees to not sell his shares for at least three years and to not purchase more than 25% of shares in the company. With this week's purchase, Ferro now owns nearly 17% of Tribune Publishing.
As a direct result of his sizable investment to Tribune Publishing comes power within the company. Ferro was immediately named Non-Executive Chairman Of the Tribune Publishing Board Of Directors. He pushes out Eddy Hartenstein, who has been in that role since Tribune Publishing spun off from the former Tribune Company in 2014. Hartenstein will remain as a member of the board, however.
In a statement, Hartenstein, ever the good Tribune soldier, said: "We are pleased to have Michael Ferro join our Board. He is a proven value creator, and his strong entrepreneurial business acumen enhances our ability to execute our strategic plan and grow the Company."
Ferro will now have a major impact on the direction of Tribune Publishing, which could include future purchases and expansion, as well as digital initiatives, a strong interest of Ferro's.
Ferro said in a statement this morning: "I am excited to be working with the Company's award-winning brands. I see tremendous upside to create value and put Tribune Publishing at the forefront of technology and content to benefit journalists and shareholders."
With his new controlling role within Tribune Publishing, Ferro relinquishes his leadership roles within Wrapports, Sun-Times Media, and their related companies.
John A. Canning, Jr., Chairman and co-founder of Madison-Dearborn Partners LLC, as well as co-founder of Wrapports along with Ferro, has been named as Wrapports Chairman of the Board, replacing Ferro.
Bruce Sagan, founder of the Daily Southtown and Publisher of the Hyde Park Herald, now becomes Chairman of the Board for Sun-Times Media and all Sun-Times-related companies, replacing Ferro. He had previously been a board member of Wrapports.
Sagan said in a statement today: "It has been a pleasure to serve on the board of Wrapports and to be a part of the turnaround of the iconic Chicago Sun-Times brand. I look forward to continuing to spread the Chicago Sun-Times brand of journalism and to continue deepening our relationship with our readers in print, online and mobile."
Also joining the Sun-Times Board of Directors effective immediately are Sun-Times Publisher and Editor-in-Chief Jim Kirk, Sun-Times General Manager Paul Pham, Wrapports CFO Richard Krieberg, and Wrapports executive Erik Hammer.
Ferro will still retain a majority equity ownership in Wrapports/Sun-Times Media.
With Ferro now having large amounts of ownership in both the Chicago Sun-Times and Chicago Tribune, the market's two largest newspapers, the transaction runs the risk of having it examined and possibly altered or rejected by federal regulators.
More than that, with one person having large ownership and control over both major newspapers, it creates what appears to be a solid bridge between the two newspapers, and the likelihood of of a merger between the two. 2016 could be the year that Chicago becomes a one newspaper city, courtesy of Michael Ferro, Jr.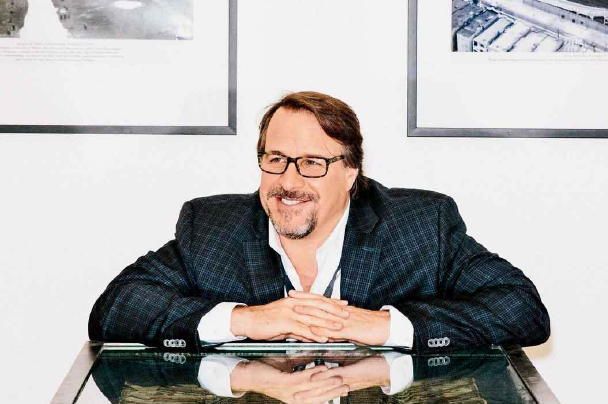 Michael Ferro, Jr.
- photo credit: Ryan Lowry