Details

Published on Monday, 09 August 2010 11:39
In today's News & Notes, we have news about WGN's Dan Zampillo, WLS' Steve Dale, Weigel's Green Screen Adventures, AccuRadio's Ravinia Radio, WSCR's Boers & Bernstein, WMVP's Waddle & Silvy, Chicago White Sox on The Score and their reality show on CSN, WBBM-FM's Showbiz Shelly and WKSC-FM's Mel-T lose a contest, Stu Evans is back at work, and more!
* * WGN-AM's Assistant Program Director Dan Zampillo will be leaving the station at the end of this month. He has taken a new position with a radio station in New York City beginning in September. There is no word on who will be his replacement at WGN yet.
UPDATE: Dan Zampillo's new position in NY will be with Sirius/XM Satellite Radio.
* * The City of Chicago is having its second annual "Dog Day on the Green," a festival for dog owners and their dogs to promote dog licensing and dog health. The event, which takes place from 9:00am-4:00pm on August 29 at Montrose Harbor in Lincoln Park, will be sponsored and promoted by WLS-AM. Of course, a key proponent of the event is Steve Dale, host of WLS-AM's "Pet World" on Saturdays. Skip Haynes of Aliotta-Haynes-Jerimiah, has recorded a new version of the classic "Lake Shore Drive" with all new lyrics for this event (Steve Dale helped co-write the lyrics). Haynes will be making his first Chicago appearance in many years to be at this event later this month, appearing with Steve Dale. For more information about "Dog Day on the Green," visit this link
HERE
. To hear about it, as well as hear the new version of "LSD," which is also called "Dog Day on the Green," listen to Saturday's podcast of Steve Dale's "Pet World" at this link
HERE
. To purchase the Skip Haynes song "Dog Day on the Green," with all proceeds going to Chicago pet charities, visit this link
HERE
and scroll down to the digital SongStore.
* * Weigel Broadcasting's locally-produced children's series, "Green Screen Adventures," won a 2010 Clarion Award in the category of "Television Special Audience Program." Since the program first started in 2007, it has received several prestigious national awards, including: two Gabriel Awards, a Service to America Award from the National Association of Broadcasters Education Foundation, a 2010 Telly Award and a 2009 Clarion Award. "Green Screen Adventures" airs on Weigel's national network, THIStv, Saturdays at 9:00am. The show is also broadcast on Weigel Broadcasting's other local stations in Chicago, Milwaukee, and South Bend.
* * There is a new Chicago-based Internet radio station now available online. Ravinia Festival, in cooperation with Chicago's AccuRadio, has just launched "Ravinia Radio." The new station will feature dozens of musical artists, along with classical music compositions, heard during the 2010 season at America's oldest summer music festival. Artists and music from previous years will soon be added, as well. One of the features of "Ravinia Radio" is its ability to be personalized by customizing the artists on the station's playlist, along with the pause & skip features. There are also subcategory channels (only classical, only pop, and soon, only jazz) for listener preference. The new "Ravinia Radio" can be found
HERE
.
* * WSCR-AM's afternoon team, Boers & Bernstein will be broadcasting live from the Chicago Bears training camp down at Olivet Nazarene University in Bourbonnais this afternoon, as well as again on Thursday afternoon, both from 1:00pm-6:00pm. Let's hope Urlacher & Peppers don't "accidentally" mistake these two for tackling dummies!
* * WMVP-AM's Waddle & Silvy will be broadcasting live from the Chicago Bears training camp down at Olivet Nazarene University in Bourbonnais this Wednesday, August 11, from 9:00am-1:00pm. This way they can see for themselves if Jay Cutler is throwing multiple interceptions to his own team.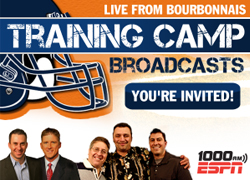 * * The six-episode reality mini-series on the MLB Network that focused on the Chicago White Sox and the behind the scenes operations of the organization, "The Club," wrapped up its run this past weekend. The series can still be seen two different ways, though. For those who have Comcast Cable, "The Club" is on its "Comcast On Demand" section. Also, just announced this afternoon, Comcast SportsNet will be re-airing all six episodes in order beginning next week. Here is the (somewhat complicated) schedule for seeing the new airings of "The Club" on Chicago's Comcast SportsNet:
Episode #1 -- Monday, August 16, 7:00pm (repeat airing on Sunday, Aug. 22 at 4:30pm)
Episode #2 -- Tuesday, August 24, 11:00pm (repeat airing on Sunday, Aug. 29 at 4:30pm)
Episode #3 -- Wednesday, September 1, 7:00pm (repeat airing on Sunday, Sept. 5 at 4:00pm)
Episode #4 -- Monday, September 6, 7:00pm (repeat airing on Sunday, Sept. 12 at Noon)
Episode #5 -- Tuesday, September 14, 11:00pm (repeat airing on Sunday, Sept. 19 at Noon)
Episode #6 -- Monday, September 20, 8:00pm (repeat airing on Sunday, Sept. 26 at 6:00pm)
"The Club" was produced for the MLB Network by MLB Productions and narrated by award-winning actor/Chicago native/long-time White Sox fan Michael Clarke Duncan.
* * Speaking of the Chicago White Sox, it has been more than just a rumor that Jerry Reinsdorf has been looking strongly at purchasing one of Emmis Communications two Chicago radio stations, with the thought of having a FM Sports Station, which would also become the flagship station for the radio broadcasts of the two teams he largely owns, the Chicago Bulls and the Chicago White Sox. It appears he may be walking away from that potentially costly idea. Insiders at WSCR-AM are telling Crain's Ed Sherman that the station is close to an agreement with the White Sox organization to remain the flagship radio station for the team. You can read Ed Sherman's report from earlier today at this link
HERE
. This should also mean a sigh of relief can be heard at WMVP-AM, who carries the Chicago Bulls broadcasts and did not wish to lose them to a FM station again. (They once lost Bulls broadcasts to WCKG-FM for a short time.)
* * As mentioned
here previously
, thousands of female radio hosts nationwide have been trying to win the opportunity to be Regis Philbin's co-host for a day on the television show, "Live! with Regis & Kelly." That included many from the Chicago area. A few weeks ago, the list was narrowed down to Top 100 candidates, a list that included two Chicago radio personalities: WBBM-FM's Showbiz Shelly and WKSC-FM's Mel-T. Today the list was narrowed down to the Top 10. Unfortunately, there are no Chicago radio hosts on that list. Shelly & Mel did not make the cut this time. The last 10 finalists are: Carolina Bermudez, Anji Corley, Kristen Cruz, Jayde Donovan, Ashley Greco, Andrea Hiland, Jenn Hobby, Kim Iverson, Malikha Mallette and Shannon Murphy. To vote on the remaining candidates, even though Chicago has been shut-out, visit this link
HERE
and vote by Wednesday. (My prediction: Kim Iverson)
* * It used to be that Philadelphia was the city with the most former Chicago radio talents. It looks like that city may now be Phoenix, AZ. In addition to the recent announcements of
Sludge
&
Rick Gillette
beginning in Phoenix, "Big Shoe" Stu Evans is returning to the Phoenix airwaves, where he was a fixture at one time. He is returning to KMLE-FM as the afternoon drive host. Stu Evans was heard on Chicago's airwaves on & off since the 70's on stations WFYR, WJEZ, WJJD, and WJMK. With his new role on KMLE-FM, he replaces another former Chicago radio personality, Jeffrey T. Mason (aka "Jeffro"). Mason had working at both KMLE-FM as a DJ and at sister-station, KOOL-FM as a DJ & APD. His duties at KOOL-FM remain unchanged.