Details

Published on Friday, 13 August 2010 00:03
"He who fights with monsters might take care lest he thereby become a monster. Is not life a hundred times too short for us to bore ourselves?"
~ Friedrich Nietzsche
There was no fighting, but there was a show named "Monsters," which became a monster problem for WBBM-TV. In they end, they felt the life of the station was too short to continue to bore the public with that show.
Chicago's WBBM-TV has announced the cancellation of their early morning news/talk program, "Monsters & Money in the Morning."
For the last few years, WBBM-TV's local early morning news programming was dead last in the ratings, losing to all the major networks and often to the minor stations, as well. By the end of 2009, Bruno Cohen, the President and General Manager of WBBM-TV, knew he desperately needed to give its early morning programming a kick start.
Enter Mike North.
North, the former WSCR-AM radio personality was co-hosting a television morning show on Comcast SportsNet, along with his one-time radio partner, Dan Jiggetts. When the duo worked together on the radio, their show was called "Monsters of the Midday," a take off on the Chicago Bears nickname, "Monsters of the Midway." Their Comcast SportsNet sports talk show was called "Monsters in the Morning." Due to economic reasons, Comcast SportsNet had announced that they would be ending the "Monsters in the Morning" program before the end of 2009. North approached Cohen about bringing the show to WBBM-TV. Cohen knew he needed help in the early morning hours, but wasn't sure a sports-only show would fly with WBBM-TV's viewers. Together, they came up with the idea of mixing financial news, top news stories, current events and sports together, and adding a pair of seasoned & respected news anchors. Along with North & Jiggetts, the show was to be co-anchored by veteran finance commentator/reporter/columnist Terry Savage and former CNBC reporter Mike Hegedus. The new show was then named "Monsters & Money in the Morning" and made its premiere on February 1st of this year, airing the the early morning hours of 5:00am to 7:00am.
The show broke many of the stereotypical rules about morning news shows. It broke new ground in camera angles, including the use of a new computerized swivel camera, located at the center of the round table the hosts & guests would sit at. All four hosts would often ask questions of guests, even if only one or two of the hosts actually had knowledge of the subject matter at hand.
Station management had hoped that the show would not only be able to find a new audience, but also be a way to attract new sponsorship and even product placement -- revenue for the station not normally found for typical morning news programs. Unfortunately, the new revenue did not come close to being able to support the expense of the show.
"Monsters & Money in the Morning" was a brave experiment for WBBM-TV, who figured they were in a no-lose situation. With ratings as low as they had been for the station's early morning hours, the new show's ratings could not sink any lower. They were wrong.
Despite the horrible ratings WBBM-TV had prior to the "Monsters" show, ratings quickly became much worse, often struggling to get even 1% of the viewing audience at that time, rarely reaching even 2% on special shows with big-name guests. In some demographics, such as the sought-after 25-54 demographic, the show often struggled to get above a lowly 0.1 rating. Local channels showing reruns of old television shows or even repeats of infomercials sometimes made higher ratings during that same time slot.
While Dan Jiggetts emerged as a true star, Mike North, Terry Savage and Mike Hegedus never seemed comfortable on camera, with each other, or with the format. As uncomfortable as the shows' hosts seemed, the show was even more uncomfortable for viewers. It never caught hold with them and it's fate was sealed, just over six months into the experiment.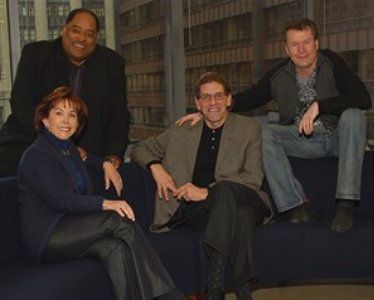 Bruno Cohen and WBBM-TV deserve praise for trying something new & experimental. Now they deserve praise for knowing when to pull the plug on a failed experiment. The final show of "Monsters & Money in the Morning" will be August 27th.
The fate of the four main hosts is unknown, but a spokesman for WBBM-TV said that it is possible that some or all of them could be used on other CBS2 news shows.
What prompted WBBM-TV to make this cancellation announcement so far in advance of the final show was the fact that news of the show's replacement had prematurely snuck out. First, the news of WBBM-TV's plans were revealed as the top story Thursday morning on the industry website
News Blues
. That was quickly followed up by a more
in-depth look at the controversial new hire for WBBM-TV
by a local media blogger, who put the pieces together that this new hire meant the end of "Monsters." At that point, WBBM-TV officials had little choice but to come clean. They admitted that "Monsters" was soon to be done on August 27th and that a new show will debut on August 30th.
This controversial new hire is Steve Bartelstein. The controversies have to do with the seemingly trivial reasons why he abruptly quit his New York WCBS-TV job, as well as some of the reasons he lost his prior job at New York's WABC-TV. There he was terminated for sleeping through a news update, but also for consistent tardiness and on-air fights with co-workers (see the video of Bartelstein snipping at the WABC-TV weatherman
HERE
). Adding to his controversial past were allegations of heavy daily drug use and nightly clubbing, along with a sexual harassment/stalking lawsuit that was brought against him by a male co-worker in New York. That suit was later withdrawn. Bartelstein always denied the allegations, but did then feel the need to come out as being openly homosexual.
It should also be pointed out that despite the past controversies, Bartelstein also built up a decent fan base in New York and was well liked by many. His on-air work has been called "exemplary" and "flawless" by some.
Bartelstein is currently 47 years old, was born in Evanston, IL, and raised in Wrigleyville & Skokie. He began his broadcasting career in Evansville, IN, when he was only 19 years old. Since then, he has worked in television news in Durham, NC, Providence, RI, Indianapolis, IN, Charleston, SC, Portland, OR, Atlanta, GA, and of course lastly, New York, NY. In 2007, he was diagnosed with testicular cancer. He underwent surgery & chemotherapy right away. In 2008, he declared he was cancer-free.
Bartlestein is the second recent hire that WBBM-TV has done in the last month. WCBS-TV morning news anchor,
Kate Sullivan is set to join Rob Johnson
as co-anchor of the 5:00pm & 10:00pm newscasts beginning September 13th.
For now, WBBM-TV has a more straight-forward two-hour morning news program planned with Steve Bartlestein as the male co-anchor, along side Roseanne Tellez, as the replacement for "Monsters & Money in the Morning." They figure the ratings can't become any worse than the morning show show they have on now.
Then again, they also figured that when they came up with the idea for "Monsters."