Details

Published on Friday, 13 August 2010 12:08
In today's News & Notes, we look at the return of Stella Foster, recent hires & promotions at Johnson Publishing, Bruce Wolf doing some sports fill-ins, Steve & Johnnie honor Les Paul, CSN honoring Scottie Pippen, WBBM/WSCR look at the "Business of Sports," Mancow's uncertain future, Charley Lake's new job, WGN Morning News's new early start and commercials.
* * The Chicago Sun-Times' columnist Stella Foster is finally back to her writing after over two months away. She had underwent surgery on her knee on June 4th and has been dealing with some tough recuperating since then. This is the second surgery for her in the last year that has kept her apart from writing her columns for an extended period.
* * The constant state of change at the Chicago-based publisher of Ebony & Jet Magazines, Johnson Publishing continues on this week. In what seems like the umpteenth major change at the iconic magazine company in the last year, Linda Johnson Rice, the daughter of the company's founder, John Johnson, will step aside as CEO, but retain the title of Chairman. In her place, she has appointed her close personal friend, Desiree Rogers, to take over as CEO effective immediately. Desiree Rogers is the controversial former White House social secretary and Illinois Lottery director. On June 5th, Rice named Rogers as a special consultant to the company. Just over two months later, the woman with no print media experience is running the company. Her first act as CEO was to bring on Rodrigo Sierra as Johnson Publishing's new Senior Vice President & Chief Marketing Officer. From 1990-1998, Sierra was a news reporter, anchor and assignment editor for WGN-AM. From there he spent two years working as Mayor Daley's press secretary, followed by eight years of public affairs work at Peoples Gas/Integrys Energy Group. Like Rogers, Sierra also has no previous print media experience. Rogers worked together with Sierra at Peoples Gas and has a friendship with him. (The turmoil & questionable executive hiring practices of Johnson Publishing is very similar to what is happening at another Chicago-based media company.)
* * Good news for fans of Bruce Wolf! The radio & TV personality will be filling in as sports anchor on WMAQ-TV's newscasts tonight and tomorrow night. The bad news: due to strict NBC cutbacks in the wardrobe department, he might have to wear some of Paula Faris' old maternity outfits.
* * Yesterday was the one year anniversary of the death of rock & roll architect, guitar legend, and former Chicago radio personality, Les Paul. For almost twenty years, WGN-AM's Steve King and Johnnie Putman were close friends with Les Paul. On their overnight radio show last night/this morning, they paid tribute to Les Paul and honored his memory with numerous interviews. Some of the show has already been turned into podcasts for those who may have missed it. You can hear three separate segments
HERE
,
HERE
, and
HERE
.
* * In related news, it was announced on Steve & Johnnie's WGN show early this morning that the longtime radio duo will soon be contributing a regular blog to the brand new website for
The Les Paul Foundation
. The blog will be about Steve & Johnnie's favorite memories of their dear friend, Les Paul.
* * Tomorrow morning, you can get a chance to meet WTMX-FM's nighttime funnyman Jeff Corder. Corder, along with the Mix Road Crew, will be at the Grand Opening celebration at the Orland Park Meijer (15701 71st Court, Orland Park) from 11:00am-1:00pm. Be nice to Jeff, since he will be giving away tons of prizes to those who visit with him!
* * With the Chicago Bulls' superstar Scottie Pippen being inducted into the Hall of Fame today, Comcast SportsNet has some special programming in tribute to this event. CSN's "SportsNite" this evening will provide highlights of today's ceremony in Springfield, MA. Before that, CSN's "Chicago Tribune Live" will have a special Pippen HOF tribute/discussion tonight at 5:30pm. Comcast SportsNet will also re-air Scottie Pippen's 1994 NBA All-Star Game MVP performance tomorrow night at 7:00pm.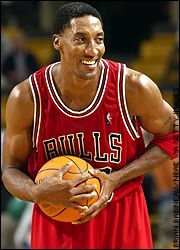 * * Comcast and WBBM-AM will be once again presenting another of their "Newsmaker Series" luncheons -- this time teaming up with WSCR-AM. The next "Newsmaker" event will be called "The Business of Sports" and will deal with the business side of professional sports here in Chicago. The luncheon event will take place on September 16 at the Sheraton Chicago Hotel and Towers, and will feature an impressive panel of speakers & guests. The scheduled panelists are Chicago Cubs owner Tom Ricketts, Chicago Bears President Ted Phillips, Chicago Blackhawks President John McDonough, Chicago White Sox Senior Vice-President Brooks Boyer and Northwestern University Athletic Director Jim Phillips. There will be both a panel discussion and a question-and-answer session. The emcees for this three-course luncheon and sports discussion will be WBBM-AM Bears analyst Tom Thayer and WSCR-AM's morning show hosts Mike Mulligan and Brian Hanley. Tickets are $45 and only available by phone, by calling 312-729-3936.
* * Troubling word continue to come out from Mancow's camp. Although the syndicated show by the former Chicago radio personality has not yet ceased production as was
rumored a couple of weeks ago
, some insiders are saying it is a question of
when
it will end, not
if
it will end. The show's distributor, TRN, has removed every possible mention of Mancow from their site, including his bio, "Listen Live" link, and schedule info. The only Mancow sighting on the TRN sight is a tiny picture of his face on the TRN home page, which is only an affiliate link that takes one to Mancow's website store, sales of which give TRN a small percentage of money back. Mancow has also been removed from all recent TRN advertising in industry publications. Al Roker, Jr, the last remaining Mancow staffer from Mancow's Chicago morning show days, exited just over a week ago. Mancow's syndicated radio show was off today, so Mancow could do a two-hour fill-in/try-out on New York's WABC-AM, while that station hunts for a new host for their 10:00am-Noon time slot (Eastern Time).
* * It was announced this week that Charley Lake, Program Director of Philadelphia's WMGK-FM, will also now be the PD for sister station WMGK-FM. Just a few years ago, Charley Lake was the Program Director for Chicago's WJMK-FM when it was an Oldies format. He was the PD at the time CBS Radio (then called Infinity) decided to pull the plug on Oldies and flip the station to Jack-FM, pushing Lake's programming and the on-air staff to the seldom heard HD-2 channel. A couple of weeks later, Lake quit WJMK took a PD position in Phoenix.
* * It was
announced a month ago
, but the WGN Morning News is finally going to be starting their 4:30am newscasts on Monday morning. That means it is time for a new mascot: