Details

Published on Friday, 10 February 2017 17:15
This weekend's News & Notes features 14 media news items, including: Kristina Kage is sticking around for a few years; WBEZ-FM adds a new show; Kathy & Judy hosting a fundraising event; John Williams moves earlier on Saturdays; Lou Manfredini hosts a live remote; Bill & Wendy host what fans hope is not their last live remote; WXRT-FM reschedules its movie theater concerts; Hubbard Radio Chicago drops a lawsuit; WVON-AM and WBBM-TV staffers are honored; Public Narrative salutes some Chicago journalists; WFLD-TV's newsroom is getting a facelift; MeTV finds love; Jim Rose gets to spoil a granddaughter; and CBS Television stations are staying with Nielsen ratings. All of these stories are found just below.
* * In May 2015, iHeartMedia Chicago hired Kristina Zsenyuk, an unknown from Oregon, to be its newest morning show host for WLIT-FM/93.9 MYfm. She is now known on-air in Chicago as Kristina Kage. Ratings and audience reception have been surprisingly excellent for Kage. With her two-year contract nearing an end, iHeartMedia has rewarded Kage's Chicago radio success with a three-year contract extension.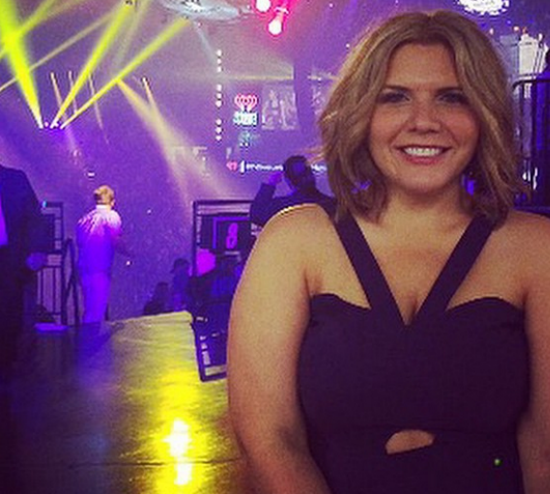 * * WBEZ-FM has added the weekend show "Innovation Hub" to its lineup. Hosted by Kara Miller, the weekly 60-minute program covers advances in science, medicine, transportation, education, technology, and more. The program is produced by WGBH-FM, the public radio station in Boston, and syndicated via Public Radio International. On WBEZ-FM, "Innovation Hub" will air Sundays from 6:00pm-7:00pm. It replaces the syndicated program "Backstory," which ceased production at the end of last month.
* * Fans of the
recently-fired
WGN-AM stars Kathy O'Malley and Judy Markey will have a chance to visit with them in person at a fundraiser this spring. The People's Resource Center, a DuPage County food pantry that helps feed and clothe over 30,000 people in need annually, is holding a special meet & greet with "The Girlfriends" to help raise needed funds for their organization. Calling it "Live with Kathy & Judy," the event will take place on April 23rd at 2:30pm at the Le Jardin Restaurant in Cantigny Park (1S151 Winfield Road, Wheaton). Tickets to attend are just $30 and can be purchased online at this link
HERE
.
* * With Kathy O'Malley and Judy Markey
forced out early
from WGN-AM, the station has gone ahead and moved John Williams' Saturday show into the time slot formerly held by "The Girlfriends." Williams' new 10:00am-Noon Saturday show begins tomorrow. Fill-in shows will take over Williams' vacated 1:00pm-3:00pm time slot for the next month, with Andrea Darlas and Esmeralda Leon hosting a show there this Saturday. As previously
reported here
, a new business show and car talk show will take over the Saturday early afternoon hours starting March 18th.
* * WGN-AM's Lou Manfredini, aka "Mr. Fix-It," will be broadcasting his show this Saturday from 7:00am-10:00am live from the Old House New House Home Show, which is taking place at the Pheasant Run Resort (4051 E. Main Street, St. Charles). A complimentary breakfast and refreshments will be served during the broadcast, plus anybody attending Manfredini's live remote will gain free access to the Old House New House Home Show.
* * On Tuesday, WGN-AM midday hosts Bill Leff and Wendy Snyder will be broadcasting live from Gabe's Place restaurant (9 E. Main Street, Glenwood) from 1:00pm-3:00pm. Additionally, news anchor Steve Bertrand will broadcast the "Wintrust Business Lunch" at noon from Gabe's. With "The Bill & Wendy Show" having its hours soon to be
cut in half
to make room for the return of John Williams, plus with rumors circulating that Leff and Snyder's time at WGN-AM may be coming to an end this year to make room for another returning host, fans have been organizing via Facebook to fill this live remote up with an enthusiastic audience to show their support for Leff and Snyder, as well as peacefully let station management know they are very un-happy with some recent decisions made at WGN Radio.
* * Last month, WXRT-FM/93XRT
promoted
its second annual concert event located inside the old-time movie house Tivoli Theatre in downtown Downers Grove. This year's two-night show was to feature headliner Los Lobos on February 15th and 16th. However, due to a family emergency with one of the members of the band, both of next week's shows are cancelled. The February 15th show is being rescheduled for March 14th and the February 16th show will now take place on March 16th, both at the same time and location. Already purchased tickets can be used for the new dates. For those who cannot make the new March dates, refunds will be issued via Eventbrite.com, where the tickets were originally purchased from.
* * A longtime Chicago radio sales executive was recently sued by Hubbard Radio Chicago. He had started in the business in the late 1990s with Infinity Broadcasting at WCKG-FM, before joining Bonneville WTMX-FM in 2001. He moved up the ladder with Bonneville, which became Hubbard Radio. This executive was named Local Sales Manager for WTMX-FM and WILV-FM in 2007, and in 2012 promoted to General/Integrated Sales Manager for WILV-FM/WSHE-FM and Hubbard's 2060 Digital. This past November, he left Hubbard to join an Internet video sales company's Chicago offices as Sales Director. Hubbard deemed this new company as a direct competitor to their 2060 Digital division. At the end of January, Hubbard Radio sued this executive, claiming that after he announcing his exit from Hubbard, he logged into the company's CRM platform may have accessed client contact information. Hubbard was seeking damages and an injunction against using that supposedly confidential information. However, just four days after filing the lawsuit in the U.S. District Court for the Northern District of Illinois, Hubbard Radio abruptly asked the courts to drop the lawsuit. Hubbard dismissed the lawsuit with prejudice, which means they cannot ever refile that suit again. As Hubbard does not comment on litigation, it is not known if new information was brought to light proving the former employee did nothing wrong or if a settlement agreement had been quickly reached.
UPDATE 2/11/17: Per special request, the former employee's name and the name of the company he now works for have been removed.
* * On February 18th from 5:00pm-9:00pm, the National A. Philip Randolph Pullman Porter Museum will host its 2017 Gentle Warrior Awards black tie fundraiser at the Parkway Ballroom (4455 S. King Drive, Chicago). Awards will be handed out in two categories (four awards in each category): The A. Philip Randolph Gentle Warrior Award and the A. Philip Randolph Change Agent Award. Among those being presented with "Change Agent" awards are WVON-AM/Midway Broadcasting Chairman Melody Spann Cooper, as well as the WBBM-TV/CBS 2 Investigator Team (Pam Zekman, Dave Savini, and Brad Edwards). WVON-AM host Cliff Kelley will serve as the emcee for the awards ceremony. More information can be found at this link
HERE
, as well as a link to purchase tickets to attend.
* * Columbia College Chicago's Public Narrative (formerly Community Media Workshop) announced its 2017 Studs Terkel Community Media Award winners on Thursday. The awards honor media professionals who bring the voices of the ordinary citizen to mainstream attention, just as Studs Terkel did throughout his long career in radio, television, and in print. The four winners are Univision Chicago's entire newsroom, WBEZ-FM Senior Editor Cate Cahan, Chicago and Oakland-based photographer/filmmaker Carlos Javier Ortiz, and Chicago Tribune reporter/editor Steve Mills. The 23rd annual Studs Terkel Awards ceremony will take place March 9th from 5:00pm-8:00pm at Columbia College Chicago's Film Row Cinema, located at 1104 S. Wabash, 8th Floor, in Chicago (likely location - not yet confirmed). Tickets to attend can be purchased at this link
HERE
.
* * WFLD-TV/FOX 32 will be hosting its newscasts from a temporary set for the next month or so (surprisingly doing so during the important February sweeps period). This is because a new, state-of-the-art set is being constructed for the station, which should be completed later in March.
* * Chicago-based retro television network MeTV will be called "Love MeTV" on Sunday as it celebrates Valentine's Day. Starting early Sunday morning, the network will be playing 23 special love-themed episodes of their regularly scheduled programming. Shows about love include episodes from "The Brady Bunch," "Laverne & Shirley," "Happy Days," "Gilligan's Island," "The Love Boat," "Cheers," "I Love Lucy," "The Mary Tyler Moore Show," "Taxi," "Get Smart," and more. In Chicago, MeTV can be viewed over-the-air on WCIU-TV's digital subchannel 26.3, as well as on most Chicago area cable/satellite systems.
* * Congratulations to WLS-TV/ABC 7 sports anchor/reporter Jim Rose. He has become a grandfather for the first time. Rose's son and daughter-in-law welcomed into the world their first daughter this week, Cora Ann Rose.
* * CBS Television's 17 owned and operated television stations have signed a renewal agreement with Nielsen Local Media to continue to get ratings data from the company. Being that Nielsen has the near-monopoly on television ratings, this renewal is by no means a surprise. The new deal reportedly allows for CBS to gain even more information from Nielsen regarding audience geography, characteristics, and demographics. In Chicago, CBS owns WBBM-TV/CBS 2.