Details

Published on Wednesday, 25 August 2010 10:53
In today's giant-sized News & Notes, we look at Byrd's happy hat trick, Boers & McNeil getting "heavy" again, Byron Harlan comes to WLS, Anna Davlantes shows off her pitching form, WGN Morning News delivers comedy for charity, WGN-AM puts a new coat of paint on their website, Kathy & Judy speaking in Lincolnshire, Comcast SportsNet salutes Frank Thomas, Steve Cochran has fun on ESPN1000, Steve Dahl is a proud papa, Jill Egan & Tera Williams Barz will very soon be proud mamas, and Art Norman suffers a very sad loss.
* * WLUP's afternoon rock jock, Byrd is used to making fans happy with his radio work. On Monday night, he made around 8,000 people extremely happy, while being live on stage. The band Rush was playing a concert at Charter One Pavilion this past Monday night, a make-up concert for the July 7th one that was canceled due to terrible storms. After their first set ended and as the band was taking a quick break, Bryd took the stage. He was given the honor of telling the fans at the make-up concert that the band felt terrible about having to cancel last month's show and let everybody there know that they would be getting free customized hats that night. The hats say "RUSH 1974-2112" on the front, while the back side says "THE RAIN DATE, RUSH, CHICAGO - 2010." The July 7th Rush concert was forced to be canceled right before show time due to wind & rain that were coming in almost sideways, posing a danger to those around the electronics and the audience itself. Though the reschedule date was announced less than a week later, that didn't stop one fan from suing the band for not playing. Perhaps it was that lawsuit or perhaps Rush just wanted to pass along this classy gesture to their fans, but on Monday night, Byrd was the bearer of great news for a whole lot of people.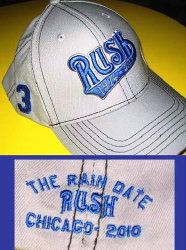 * * If Bill Kurtis & Walter Jacobson could do it, why can't Terry Boers and Dan McNeil? "The Heavy Fuel Crew" are reuniting for one-time-only fun show this Friday, August 27th. The duo, who were partners for seven years on The Score, and who have remained close friends over many years, will be together again, as Dan Bernstein & Dan McNeil will swap spots for the day. Bernstein will partner up with Matt Spiegel for Danny Mac's usual show time of 9:00am-1:00pm. Then from 1:00pm-6:00pm, Boers & McNeil will be doing a live remote from Bar Louie, located at 22 E. Chicago Ave. in Naperville. They will have Cubs tickets to give away (although who really wants them at this point...) and other surprises. The usual half-hour of cross talk between the midday & afternoon show will still take place, as well. Most of all, be ready to hear plenty of Dire Straits' "Heavy Fuel" after each commercial break.
* * Former WFLD-TV anchor, Byron Harlan is getting back to work! Starting Sunday, September 5th, Byron Harlan will be the co-host of "Money Talks," a new financial news & talk radio show. It will air on WLS-AM from 1:00pm-2:00pm. The show will run live, so callers are encouraged. Harlan's co-host is Jeff Harper, the Senior Financial Planner for the Harper Financial Group & MetLife. "Money Talks" replaces "The Best of WLS" that had been airing in that same time slot lately. Byron Harlan left his longtime weekend anchor position at WFLD-TV in March of this year, after station management did not renew his contract.
* * Speaking of WFLD-TV, that station's morning news anchor, Anna Davlantes will be throwing the ceremonial first pitch at the Chicago White Sox game at around 7:00pm tomorrow night. Thursday is "Greek Heritage Night" at US Cellular Field. If Ozzie & Kenny are looking for some new closers...
* * This Friday night, a bunch of WGN Morning News personalities will be making folks laugh for a good cause. The NCO's "Night of Comedy" will feature stand-up comedy from some funny WGN-TV staffers. Marcella Raymond will host the evening's fun. Ana Belaval, who a few months ago was a comedy rookie, but is quickly becoming a laughter veteran, will perform. Pat Tomasulo will be making his stand-up comedy debut this night! Mike "Skip Parker" Toomey will then make sure everybody leaves with their sides hurting. There will be other special celebrity guests at the event, as well. In addition to the stand-up comedy, there will be a special reception where fans can meet the WGN-TV stars. The reception will also allow attendees to participate in silent auctions, a raffle, and an interactive game show. The NCO's Night of Comedy will take place at the Madden Theatre in Wentz Hall at North Central College (171 E. Chicago Ave, Naperville) this Friday night. The reception begins at 7:00pm and the comedy show begins at 8:30pm. Tickets are $75 and include hors d'oeuvres, two drink tickets, the reception and the show. Proceeds from this event will benefit NCO Youth & Family Services. Tickets may be purchased via credit card or PayPal at this link
HERE
. More information can be found on this funny WGN Morning News video
HERE
.
* * The WGN-AM website has gone under a new facelift of sorts, thanks to the ever-expanding Tribune Interactive division. The latest changes, which are minor at first glance, have the website looking more streamlined. Some of the newer additions are the ability to comment on stories, podcasts and other features, as well as the ability to share website content on social networking sites with one click. Of course, it also now showcases the station's latest slogan "News 720 WGN," removing any direct mention of the fact it is a Chicago talk radio station. The site can be seen at the same domain address:
WGNRadio.com
.
* * WGN-AM's former stars, Kathy & Judy, will be the special guest speakers at Vista Health's HealthyWomanOnline.com's 2nd Anniversary Party & Women's Health Expo. The event will be held at the Lincolnshire Marriott Resort (10 Marriott Drive, Lincolnshire) on Thursday, September 30. The Expo portion of the event is free and will be held at the Marriott's Grand Marquee Pavilion from 3:00pm-6:00pm. The dinner/party portion of this event will take place from 6:00pm-9:00pm, which will take place in the Grand Ballroom and will feature Kathy & Judy as the keynote speakers. They will be speaking about having to transition to a new reality after the job they thought was secure was quickly taken away from them. According to HealthyWomanOnline.com, "Kathy and Judy will bring their trademark humor along while they share with us their trials and tribulations experienced throughout this life-changing event." Tickets for the dinner are $25 for
HealthyWomanOnline.com
members and $30 for non-members. (Memberships to the website are free.) Registrations for the dinner can be made via the website or by calling 847-360-4042. More details can be found
HERE
(registration required).
* * The Chicago White Sox will be retiring Frank Thomas' #35 on this Sunday. Comcast SportsNet will be celebrating the career of "The Big Hurt" this weekend, as well. On Saturday, CSN will air a classic game of Frank Thomas' from 2003, where Thomas slammed two home runs out of the park, including a game-winning 12th inning smash, that lifted the team over the Minnesota Twins. That broadcast begins at Noon on Saturday. All weekend long, CSN's "SportsNite" will feature stories & highlights from Thomas' career. Then on Sunday -- "Frank Thomas Day" -- the coverage begins at Noon with a half-hour interview with Thomas, followed by the #35 uniform number retirement ceremony at 12:30. The White Sox vs Yankees game airs live following that. In addition to being a baseball great, Frank Thomas joined CSN this year as a studio analyst for all White Sox home games aired on the network.
* * Steve Cochran has now done three fill-in shows on the past three Sundays on ESPN1000. The results have been terrific. While it is not yet going to become a regular show for Cochran, it is opening up more doors for him at the station. Look for Steve Cochran to be guesting on some Waddle & Silvy broadcasts on WMVP-AM in the very near future.
* * Congratulations to Steve & Janet Dahl on their son Mike's wedding this past weekend. The young man who, along with his two brothers, practically grew up on the air in Chicago as Steve Dahl was very open about his family life, is now a happily married man. He and his new bride Kathryn are now enjoying their honeymoon.
* * Best wishes to WLUP's Jill Egan, who should be giving birth to her first baby this evening!
* * Best wishes to WFLD's Tera Williams Barz, who should be giving birth to her first baby tomorrow afternoon!
* * Sincere condolences to former WMAQ-TV news anchor & reporter Art Norman. His wife, Ondina, passed away this past weekend from brain cancer. The couple had been married for 38 years. When Art Norman chose to retire from WMAQ after 27 years of being on TV this past April, one of his deciding factors was that he wanted to spend more time with his wife, Ondi, and do some traveling with her.