Details

Published on Tuesday, 21 March 2017 16:30
WMVP-AM/ESPN 1000 is making a big change with its weekday lineup effective next month. The late morning/midday show with Carmen DeFalco and John "Jurko" Jurkovic will be trading places with midday show "Kap & Co." with David Kaplan. This change will begin on April 3rd.
The swapping of shifts will give Kaplan an extra hour each morning, while taking way an hour from Carmen and Jurko. "Kap & Co." will air from 9:00am-Noon, while "Carmen & Jurko" will air from Noon-2:00pm. However, Carmen and Jurko will be able to stay on the air up to an extra half hour as they enjoy a cross-talk segment with afternoon hosts Tom Waddle and Marc "Silvy" Silverman.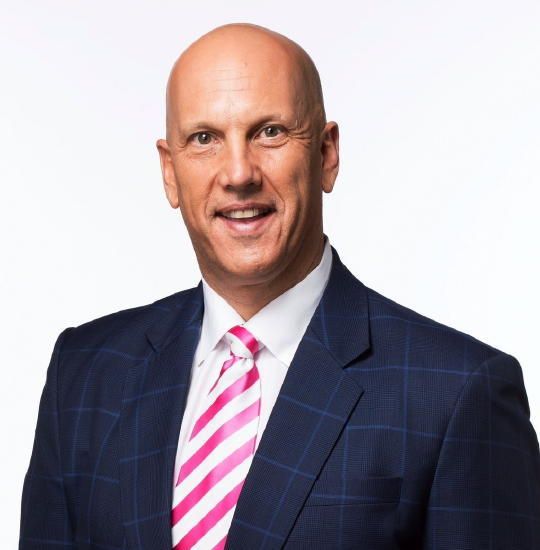 One of the key factors behind the switch is Kaplan's other job as host of the Chicago Cubs pre-game and post-game shows on CSN Chicago. Because of the many afternoon games the Cubs will play, most of which are shown on CSN Chicago, Kaplan has been forced to leave his own show early or miss shows entirely this past year. With the new schedule, Kap will be able to host pretty much all of his shows in 2017 and still be on time for his CSN Chicago work.
Hosted by one of the most respected sports talkers in Chicago, "Kap & Co." has been proven to be a big winner for WMVP-AM in the year and a half since the show's creation. In fact, for the first two months of 2017, "Kap & Co." is the second most listened-to AM radio talk show (sports or otherwise) for Adults 25-54 and Men 25-54, beating any AM radio talk show of any daypart on such stations as WSCR-AM, WGN-AM, WLS-AM, and WIND-AM. (The #1 most listened-to talk program for Adults 25-54 and Men 25-54 is WMVP-AM's "Waddle & Silvy" afternoon show.) Kaplan's ratings growth is another key reason for the schedule change.
Kaplan is a Skokie native, who continues to live in the northern suburbs with his family. He played both football and baseball at Hamline University in St. Paul, MN, where he graduated with a Bachelor of Arts degree in English.
After being a basketball coach and scout for many years, he began his sports talk career at WMVP-AM/ESPN 1000 in 1993, working for the station for almost two years. He joined WGN-AM in April 1995, working there until he exited in September 2015, rejoining WMVP-AM later that month. Along with his Cubs coverage for CSN Chicago, Kaplan hosts "SportsTalk Live" on the sports television station each weekday afternoon (unless preempted by live sports).
There will be more Kaplan-related news coming soon, as well. This week, CSN Chicago is expected to announce who Kaplan's new co-host will be for CSN's Chicago Cubs pre-game and post-game shows. Also, in just a matter of weeks, Kaplan's new book, "
The Plan: Epstein, Maddon, and the Audacious Blueprint for a Cubs Dynasty
" will be released.
DeFalco and Jurkovic have seen their show moved a few times in their many years at the station, so this isn't necessarily new ground for them. Their radio show has gone from afternoons to middays to late mornings, and as of the start of next month, back to middays.
DeFalco has been with WMVP-AM since December 1998, joining in a part-time role as an update anchor. He then added more roles, including hosting Chicago Bulls' pre-game and post-game shows, hosting Bears/NFL weekend shows, co-hosting a talk show with Silverman, blogging for the website, and more.
After afternoon personality Dan McNeil exited WMVP-AM in January 2009, Chicago area native DeFalco, who had been McNeil's main fill-in during McNeil's vacations/sick days/suspensions, then filled his role permanently. The afternoon program was renamed as the "Carmen, Jurko, and Harry Show." When veteran host Harry Teinowitz exited in 2013, the show was renamed "Carmen & Jurko."
Jurkovic, born in Germany but raised in the south suburbs of Chicago, played professional football for nine years as a defensive tackle. He retired after the 1999 season. In the summer of 2000, Jurko begin working for WMVP-AM as a full-time host, where he has been ever since.
Jim Pastor, WMVP-AM Vice President and General Manager, stated: "When 'Kap & Co.' debuted in September 2015, almost immediately it became the top sports talk show in its time slot. Now Kap's fans will be rewarded with an extra hour each day right after Mike & Mike. Carmen & Jurko will take over at noon and will set the table for sports fans for the day ahead before handing off to Waddle & Silvy. It's been this lineup, along with Mike & Mike, that has solidified ESPN 1000 as the top-rated sports talk station in the city."
In the most recent radio ratings, all three of WMVP-AM's local weekday shows in middays and afternoons are well ahead of those heard on rival sports station WSCR-AM/670 The Score in the stations' sought-after demographic of Men 25-54.
UPDATED 3/22/17 with additional information.