Details

Published on Tuesday, 25 April 2017 17:30
Today's News & Notes features 15 local media news items, including: Crystal Radio Awards pass over four Chicago stations; WUSN-FM heads to the kitchen; WSCR-AM covers the Bears' first round draft pick; Lou Manfredini takes a bite out of the Big Apple; WVON-AM gets help from a famed Chicago TV reporter; WRTO-AM catches Fire; Mancow's attorney is suing a Mancow advisor; Norris Thompson finally goes full-time; Gordon Mays returns to Illinois; Danny Lee gets the kidney he desperately needed; Dick Penn passes away; Jerry Taft returns; David Plummer gets a new Chicago TV job; Florida Hicks-Orozco needs some help; and Michigan Avenue Magazine gets taken over by its closest rival. All of these stories are right here...
* * In February, the National Association of Broadcasters (NAB)
announced
the 50 finalists for the 30th annual NAB Crystal Radio Awards. The award honors radio stations for their outstanding year-round commitment to community service. Included on the list of 50 nominees were four Chicago radio stations: WJMK-FM/104.3 K-HITS, WSHE-FM/100.3 She FM, WTMX-FM/101.9 The Mix, and WUSN-FM/US99. WSHE-FM has won this award once before (when it was WILV-FM) and WTMX-FM has won this award five times before, which resulted in the station earning the NAB Crystal Heritage Award (given to stations who have won five Crystal Awards). The NAB Crystal Radio Award finalists were chosen by a panel of judges, made up of executives from the radio industry, community service organizations, and public relations firms. From that list, ten winners were selected and announced at a special luncheon earlier today, which took place at the 2017 NAB Show in Las Vegas. Unfortunately, no Chicago stations took home a Crystal Award this year. The closest station to Chicago that won an award was WZUS-FM in downstate Decatur, IL.
* * This week, CBS Radio Chicago's new
Culinary Kitchen
will be having another live event and its first ever for WUSN-FM/US99. On Thursday at approximately 3:30pm, WUSN-FM will welcome Country music superstar Trisha Yearwood who will host a cooking demonstration. The studio audience witnessing the cooking demonstration will be made up of a handful of contest winners and invitees from CBS Radio. Those who wish to enter the contest have until tomorrow morning to enter at this link
HERE
. For those not in attendance, the event will stream live on US99's Facebook page and on CulinaryKitchenChicago.com. It will then be archived and available on-demand on CulinaryKitchenChicago.com.
* * On Thursday, WSCR-AM/670 The Score will be going all-out with their coverage of the first round of the 2017 NFL Draft. For nine straight hours, WSCR-AM will be broadcasting live from Cork & Kerry (10614 S. Western Avenue, Chicago) in the Beverly neighborhood. From 1:00pm-6:00pm, Dan Bernstein and Jason Goff will be breaking down the selections and discussing what the Chicago Bears need to do to greatly improve this year and for the future. From 6:00pm-10:00pm, WSCR-AM's nighttime show will be hosted by the radio announcers from the Chicago Bears Radio Network, Jeff Joniak and Tom Thayer. They will be joined by NFL expert Hub Arkush, famed NFL journalist/columnist Dan Pompei, and former Bear Patrick Mannely. Together, these five sports experts will break down the Bears third overall pick, as well as the other first round picks from other teams. There is no charge to attend the live remote broadcasts.
* * WGN-AM weekend host Lou Manfredini is launching a new radio show, but not in Chicago. Manfredini's "HouseSmarts Radio," an audio version of his syndicated television show "HouseSmarts with Lou Manfredini," will now be heard on Saturday mornings on WABC-AM in New York. It will air from 7:00am-8:00am (Eastern) on the NY talk station. The show had previously aired on a temporary basis earlier this year to judge local reactions. Because the response was positive, WABC-AM inked Manfredini to a weekly deal this month. The NY program will be done from the WGN-AM studios most weekends, with Manfredini's WGN-AM producer Lindsey Smithwick also producing the live NY show. Manfredini's "Mr Fix-It" Saturday morning show will continue on WGN-AM on Saturdays from 7:00am-10:00am.
* * As
first reported here
, WVON-AM 1690 morning show host and 13-year station veteran Matt McGill suddenly departed the station, unhappy with the station's choosing to take the morning show in a much more political direction. While a search is on for McGill's full-time replacement,
recently retired
WLS-TV/ABC 7 political reporter Charles Thomas
(pictured)
is taking over as interim co-host of the new "WVON Morning Show." Maze Jackson, who was
recently added
as morning show co-host remains, as well.
* * As first
reported here
in mid-March, the Chicago Fire have moved their radio broadcast rights from 97.5 Poder ("Power"), heard on WLIT-HD2 93.9-2 and simulcast on 250-watt translator W248BB in Chicago on 97.5 FM, to WRTO-AM/Univision Deportes 1200 AM. Last year, the Chicago Fire agreed to a two-year contract with 97.5 Poder, and this was to be the second year of that deal. Instead, all 2017 Fire games are now be heard on WRTO-AM. Although games have been heard on WRTO-AM for over a month, the Chicago Fire and Univision finally formally announced the new partnership last week. Doug Levy, Univision Chicago Senior Vice President and General Manager, stated: "Bringing the Chicago Fire back to Univision will allow our listeners to follow their home town MLS team all season long. We are excited that Univision Deportes Radio WRTO 1200 AM is the Spanish-language radio play-by-play home to all the major professional sports franchises in Chicago."
* * CookCountyRecord.com
reports
that a former attorney for WLUP-FM/97.9 The Loop morning show host Erich "Mancow" Muller is suing Morgan Stanley Wealth Management, as well as Shelley Bergman, a manager with that company. Michael Young, Mancow's now-former lawyer, is upset that Bergman convinced Mancow to stop using Young's legal services. Muller's former attorney is alleging that in convincing Muller to go elsewhere for his legal help, Bergman somehow defamed him and hurt his reputation.
UPDATED 4/26/17 with additional and corrected information.
* * Norris Thompson, who has been working as a part-time board operator and producer with Crawford Broadcasting since March 2008, was finally hired on by the Chicagoland radio operator on a full-time basis earlier this month. Thompson, a Chicago native, is a 2002 graduate of Southern Illinois University a U.S. Navy Gulf War Veteran. In the Chicago area, Crawford Broadcasting operates WPWX-FM/Power 92.3, WSRB-FM/106.3 Chicago's R&B, and WYCA-FM/Rejoice 102.
* * Former WKQX-FM/Q101 staffer Gordon Mays is returning back home to Illinois radio after over nine years away. Mays -- better known to many as "Mr. Gordon," "Uncle Gordon," or just plain ol' "Gordon" -- has been working in Philadelphia radio since January 2008. He previously worked for Q101 from 2004-2008 in numerous roles including on-air, production, and promotions. Both Mays and his wife are Chicago area natives who now have the opportunity to move closer to home. Mays has been hired as the new weekday afternoon host and imaging voice for WRTB-FM in Rockford, effective May 15th.
* * As
first reported here
last July, Danny Lee, the original owner/operator of WXRT-FM/93XRT had been seeking a kidney donor in order to save his life. Lee found himself battling esophageal cancer in 2002. The chemotherapy he used to help beat that cancer damaged his kidneys. Since 2015, he had been on dialysis due to his failed kidneys while searching for a living kidney donor. The 21st Century Media suburban newspapers
reported
that Nancy Detlefsen, a north suburban mother, agreed to donate one of her kidneys to Lee last month.
* * Former Chicago radio executive Richard "Dick" Penn passed away this month at the age of 75 from cancer. Penn had worked in numerous markets nationwide, but was in Chicago starting in 1977 as the first ever General Manager of WKQX-FM (after it flipped formats and changed call letters from WNIS-FM). By the early 1980s, he was promoted up the ranks at NBC Radio, leaving Chicago for the East Coast and becoming Vice President/General Manager and eventually Executive Vice President of the NBC Radio Network.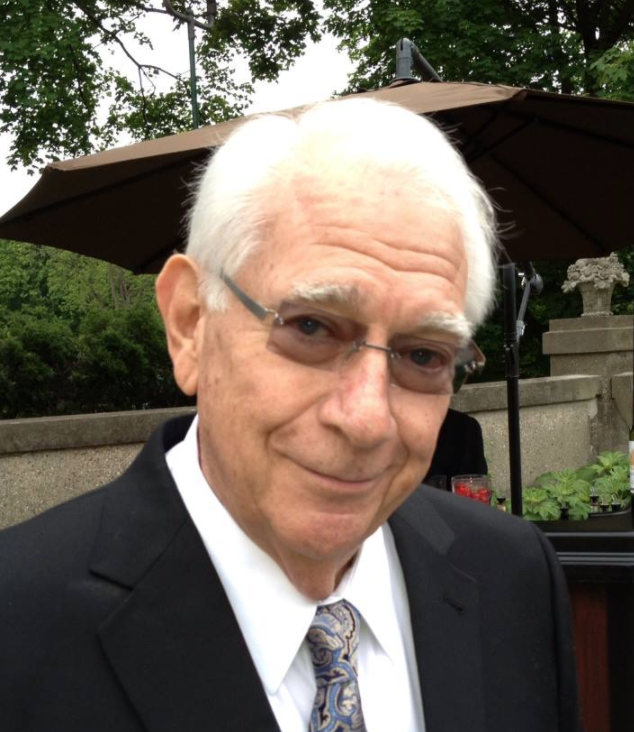 * * As previously
reported here
, WLS-TV/ABC 7 Chief Meteorologist Jerry Taft had been off the airwaves for some of March and the first half of April, worrying fans and viewers. It turns out that Taft was away recovering from a nasty illness for much of that time, followed by a pre-planned vacation, all of which combined for a lengthy absence. All is well, though. Taft returned to WLS-TV on April 17th.
* * Weigel Broadcasting announced that Emmy Award-winning television producer David Plummer has been picked as the first Executive Producer of the new local morning show coming at some point this year to WCIU-TV/The U. The morning show -- which has no name, no hosts, and no firm blueprint yet -- will be the replacement for the lame duck morning show "You & Me," which was
cancelled at the start of March
but remains on the air with temporary hosts until its replacement is ready. Plummer comes to WCIU-TV from WLS-TV/ABC 7 where he has been a producer and contributor with "Windy City LIVE" since the show's launch in the spring of 2011. Most recently, Plummer held the titles of Line Producer/Associate Director for he WLS-TV daytime show. Prior to that time, Plummer worked behind the scenes in production on the Chicago-based, syndicated, film review programs "Siskel & Ebert" and "At The Movies."
* * Well wishes go out to Florida Hicks-Orozco, former WLS-TV/ABC 7 stage manager for "Windy City LIVE," who is battling against ALS. She has been fighting against the disease since 2014, but the struggle is only getting harder and requires constant medical care. Some friends of Hicks-Orozco have set up a GoFundMe page to help raise needed funds for her battle. That crowdfunding campaign can be found at this link
HERE
. Before she joined WLS-TV in 2013, the Emmy Award-winning Hicks-Orozco was a stage manager, engineer, and more for 12 years with WBBM-TV/CBS 2 and WMAQ-TV/NBC 5.
* * Modern Luxury, the parent company of upscale, luxury, glossy publication Chicago Social (CS) Magazine, announced it was purchasing GreenDale Publishing, the parent company of rival upscale, luxury, glossy publication Michigan Avenue Magazine. Both magazines that target Chicago and north suburban upper-end audiences will be under the same ownership. Instead of covering the same subjects, Modern Luxury states that one of the two magazines will probably begin to shift its focus to younger readers.