Details

Published on Friday, 05 May 2017 07:00
Live horse racing begins once again at Arlington International Racecourse in suburban Arlington Heights on Friday, May 5th. The 2017 racing season will run through September 23rd. To commemorate the new racing season, Arlington International Racecourse has created a new, weekly television show that will air Saturdays on CSN Chicago throughout most of the summer.
The 30-minute television show, entitled "Good Day Arlington," will seek to entertain, educate, and inform viewers about events and races taking place at Arlington Park. Guests appearing on the show will be well-known names from Chicago and there will be features focused on food, fashion, and behind-the-scenes looks at what it takes to stage a day at the races.
The hosts of "Good Day Arlington" are Howard Sudberry and Alyssa Ali. Sudberry is probably best remembered as the top sports anchor for WBBM-TV/CBS 2, who was with the station from 1984 until he was released due to budget cuts in 2009. He has been Arlington Park's Senior Director of Marketing and Communications since January 2011. Ali has been working with Arlington since 2009 as a reporter and analyst. Since 2013, she has also served as Arlington's Marketing Manager. Additionally, Ali has been seen in recent years covering horse racing on a freelance basis for such outlets as WGN-TV, FOX Sports, and HRTV.
Arlington General Manager Tony Petrillo said about the show's two hosts: "Howard's years on Chicago television gives him a unique perspective of Chicago sports along with a great knowledge of thoroughbred horse racing. Alyssa has national television experience, a great social media following, and as the daughter of a trainer, she really knows racing. Howard and Alyssa have a great chemistry together, which will make for a fun half-hour of television."
Sudberry stated: "Our goal is to make this a fun show featuring many live guests from sports, racing, and entertainment. While we will talk about racing and the big events and use this as a chance to show off Arlington, we want to make it a show that anyone can find interesting even if they aren't an avid racing fan."
"Good Day Arlington" is currently slated to have 12 episodes for its inaugural television season. The show debuts this Saturday morning, which also happens to be Kentucky Derby Day -- considered by most to be the sport's biggest day of the year in the U.S.
Saturday is the 143rd running of the world famous horse race, The Kentucky Derby, taking place once again at Churchill Downs in Lexington, KY. Simultaneously, Arlington Park will be hosting the Chicago area's biggest Kentucky Derby viewing party -- a fact that will surely come up in conversation on Saturday's "Good Day Arlington" debut episode.
"Good Day Arlington" will air on May 6th (tomorrow) and May 13th. It will then take three weeks off, but return on June 10th and will consecutively air each Saturday through the Arlington Million on August 12. The program will be seen on CSN Chicago on Saturdays at 11:00am.
Arlington Park's association with CSN Chicago really began this past August when the local TV sports station broadcast the prestigious Arlington Million race
for the first time
. (The Arlington Million race had previously aired on WGN-TV for many years prior to that.)
However, with the debut of "Good Day Arlington" on CSN Chicago, this means that "Arlington Live," the racecourse's weekly radio program, is no more. "Arlington Live," which was also hosted by Sudberry and Ali, was previously heard on WMVP-AM/ESPN 1000 each Saturday morning during the spring/summer Arlington seasons from 2014-2016. The racecourse decided to pursue exposure on television this year instead of radio.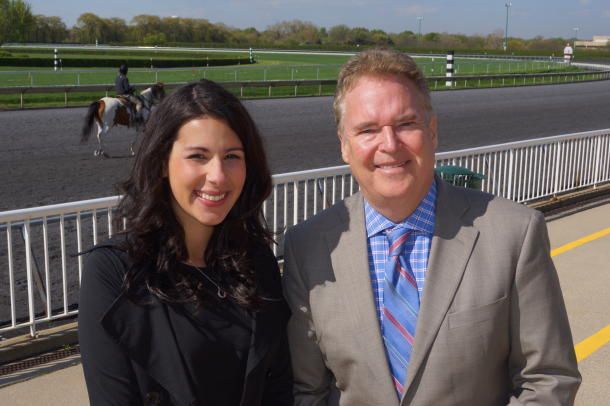 Alyssa Ali and Howard Sudberry at Arlington Park