Details

Published on Friday, 12 May 2017 08:30
Today's News & Notes features a handful of local media news items, including: Linda MacLennan returns to anchoring newscasts; Spiegel & Parkins hit the bleachers; Julie DiCaro launches a new podcast; Tom Waddle visits with fans at a grocery store; Byron Miranda looks to be leaving Chicago once again; CSN Chicago has a pair White Sox specials; Facebook wants to talk with Chicago journalists; and another programming note from CRM. All of this can be found just below...
* * For many years, Linda MacLennan was one of the top news anchors on Chicago television. Coming to Chicago from Canada in March 1987, she was named an afternoon news anchor and reporter for WBBM-TV/CBS 2. It wasn't soon after joining WBBM-TV that MacLennan was promoted up to 10:00pm news anchor, working alongside the likes of respected news anchors Bill Kurtis and Lester Holt. After 16 years with WBBM-TV. MacClennan was offered a contract buyout in February 2003 and took the deal. For the most part, she has not worked in news since that time, despite her years of great success. That break from news is about to end, though. MacLennan has joined WBBM-AM/Newsradio 780 & 105.9 as a part-time and fill-in news anchor. Said MacLennan on Facebook
on Thursday
: "I'm BEYOND thrilled!" She added: "It's an incredible time to be back in news, and it's an honor to be able to work in such an accomplished and respected newsroom."
* * Chicago Cubs announcer Harry Caray would periodically broadcast from the Wrigley Field bleachers, sharing beers with die-hard fans. On Thursday, May 18th, WSCR-AM/670 The Score midday hosts Matt Spiegel and Danny Parkins will be broadcasting their radio show live from Wrigley Field's left field bleachers. The show will air from 9:00am until 12:45pm, leading into the Cubs' pre-game show and then the Cubs/Reds afternoon game. Unlike how Caray behaved, here's hoping Spiegel and Parkins stay sober and keep their shirts on.
* * This week, WSCR-AM/670 The Score update anchor and fill-in host Julie DiCaro started up a new podcast called "Burn It All Down: Sports & Feminism." In what is hoped to be a weekly on-demand show, DiCaro will be joined by others to discuss the week in sports and culture. Along with DiCaro, hosts will include Jessica Luther, Brenda Elsey, Shireen Ahmed, Lindsay Gibbs, and Stacey May Fowles. The debut episode (and future episodes) can be heard at this link
HERE
.
* * WMVP-AM/ESPN 1000 afternoon co-host Tom Waddle will be making a personal appearance on Thursday, May 18th from 5:30pm-7:30pm. Waddle will be hanging out and meeting with fans at the Jewel-Osco located at 370 N. Des Plaines Street in Chicago. The event is being done to help promote Meiomi Wines.
* * It would appear that the very large weather team at WMAQ-TV/NBC 5 is about to get a bit smaller. According to an
unconfirmed, but reliable report
, WMAQ-TV's Byron Miranda is preparing to leave Chicago once again. This time, he will be heading to New York to join WPIX-TV, a Tribune Media station that will
soon be owned
by the controversial Sinclair Broadcasting. Miranda has twice worked at WMAQ-TV. The first time was as morning weather anchor from 1998-2002. He returned in September 2014 as weekday midday newscast meteorologist. In his career, Miranda has also worked in Atlanta (CNN), Houston, San Francisco, Sacramento, San Diego, and with two different stations in Los Angeles. This will be his first full-time job in New York.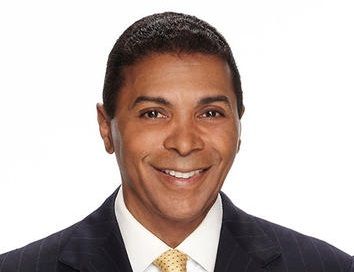 * * CSN Chicago will soon be presenting a pair of brand new, behind-the-scenes specials that will provide an up-close and personal look at numerous rising stars in the White Sox organization, including some of the leagues brightest prospects. The two CSN Original Productions specials are "White Sox Cornerstones: Charlotte" and "White Sox Cornerstones: Birmingham & Winston-Salem." The 30-minute programs will be broadcast on Monday, May 22nd at 7:00pm and 7:30pm respectively. These specials will also stream live on CSNChicago.com for authenticated CSN Chicago subscribers. The two specials for White Sox fans were written and produced by CSN Senior Producer of Original Content Ryan McGuffey, who had traveled to all three minor league sites recently and came back with fantastic material for the "White Sox Cornerstones" programs. CSN Executive Producer of Original Content Sarah Lauch edited the specials. Together, McGuffey and Lauch are multiple Emmy winners for their outstanding documentary work on CSN.
* * Facebook recently started the "Facebook Journalism Project," where company experts travel to various large/major markets to talk with legitimate journalists and news organizations about how the news people can work better with the social media giant. Facebook's stated goal for these one-day events is to collaborate more closely with news organizations and discuss key issues and industry trends. The Facebook Journalism Project will be coming to Chicago next week on May 18th. More details about the event and a way for Chicago area journalists to sign up to attend can be found at this link
HERE
.
* * Although the CRM website is still on a bit of a hiatus, it has been turning out almost daily news articles. For the next week, however, the website will be back in full hiatus mode with probably no news articles appearing. Articles will begin again the following week.