Details

Published on Friday, 03 September 2010 14:34
Today's News & Notes is filled with local media items, including an advanced Jingle with B96, B96's J Niice starts an early fire, Chet Coppock gets fans ready for some golden dome ball, Tracy Slutzkin earns a promotion, Mike North becomes a weekender, Mike McConnell enjoys being away from Chicago, WMBI gains two new programs, Crain's Chicago Business gains a new boss, and WGN-TV prepares to say goodbye to Gloria Brown. All this and more is just below...
* * It's beginning to look a lot like Christmas! Well, not really. It is a little cooler today, but not really December weather. However, radio stations are already making holiday party plans. Earlier today, this site mentioned about WLS-AM's plans for a
Roe & Roeper holiday party
. Now, it's WBBM-FM's turn! The B96 Jingle Bash 2010 will take place at the Allstate Arena on Saturday, December 11th, starting at 6:00pm. Which top pop artists are going to play there this year? That won't be officially revealed for a while yet. However, tickets are now on sale for those of you who just expect it will be a good time regardless of who is playing. Pre-sale tickets went up today. They can be purchased at this link
HERE
, using the pre-sale code: VIP. Ticket prices range from $20 to $125. (Note: Ticketmaster will be gouging ticket buyers of this show with hefty fees on top of the ticket price, ranging between $9 and $13 per ticket.) It's not even Labor Day yet, but... Happy Holidays!
* * Speaking of B96, you can catch one of the B96 morning show co-hosts out and about tomorrow afternoon. Meet up with J Niice at a special Chicago Fire Pre-Party at Toyota Park in Bridgview Saturday from 1:00pm-3:00pm. The Chicago Fire take on the L.A. Galaxy at 3:00pm, but for a couple of hours before, J Niice will be entertaining the crowd. Look for him by the big Visa Prepaid Debit Card display.
* * It is college football season once again! That means that once again, WLS-AM will be rearranging their Saturday programming line-ups somewhat to bring Chicago the exclusive radio broadcasts of Notre Dame football. The Fighting Irish's first game against Purdue kicks off at 2:30pm tomorrow. Not only is it the return of Notre Dame football broadcasts, but also the return of WLS' Notre Dame Pre-Game shows starring Chet Coppock! Beginning an hour and a half prior to any kick-off this year, WLS will have Chet Coppock and the ND Pre-Game show. Tomorrow's ND Pre-Game show will be a live remote from Citizen Bar (364 W. Erie, Chicago) beginning at 1:00pm. Come on by and keep Chet company! Chet and the WLS crew will arrive sometime after Noon. Get to the bar by 10:00am to possibly win tickets to that day's game. Notre Dame apparel and tickets to a future game will also be given away.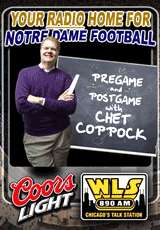 * * In other WLS-AM news, Tracy Slutzkin was promoted to Program Director earlier this week. Slutzkin had been the Assistant Program Director, while Operations Director Drew Hayes took care of many of the PD duties. With Hayes also being the OD of Washington DC's WMAL-AM, and with Slutzkin doing much of the PD work already, Hayes & General Manager Michael Damsky felt it was time to reward a long-time employee with the promotion. This now frees up Drew Hayes to concentrate on the bigger programming issues for both WLS-AM & WMAL-AM. (If Tom Joyner was the "Fly Jock" when he jetted between two towns, does this make Drew Hayes the "Fly OD?") Tracy Slutzkin first joined WLS in 1996 as an intern. Except for a three and a half year break in the middle, she has been with the station her entire radio career, working her way up the ranks.
* * Former WSCR-AM host Mike North returns to radio this weekend on the FOX Sports Radio Network. He has been given two weekly shows with FOX Sports during the football season. The first show will be a college football talk show airing Saturday mornings from 8:00am-11:00am (CST). North's second show will be a NFL wrap-up show, airing Sunday evenings from 9:00pm-Midnight (CST). Although FOX Sports Radio has hundreds of affiliates nationwide, none are on a Chicago frequency. Aurora's WBIG-AM, which carries a minimal amount of FOX Sports programming on weekends, will carry North's Sunday night program, but not his Saturday morning program. Those with XM/Sirius can hear his show on the FOX Sports channel or it can be streamed from the
Fox Sports Radio website
.
* * While the
controversy over faked & staged callers
on WGN's Mike McConnell's show has once again
re-erupted this week
, he has not been in town to fully experience it. This entire week, he has been secretly doing his shows from a studio in Cincinnati. WQRT-AM has offered him free studio space to do his WGN-AM show while he is in town there. WQRT-AM also happens to be the Cincinnati radio station that is hoping to be able to simulcast McConnell's show on their signal in a few months, so there is a good reason they are helping out McConnell and WGN like they are.
* * The Chicago-based Moody Radio Network is adding two new Saturday-only shows to its religious programming. Beginning October 2nd, Moody Radio stations will be able to hear "Inside Look with Greg Wheatley" and "The Land and the Book with Dr. Charlie Dyer." Here in Chicago, "Inside Look" will air at 1:00pm and "Land & Book" will air at 11:00am. Locally, Moody Radio can be heard on WMBI-FM and WMBI-AM. Both stations are owned by Chicago's Moody Bible Institute.
* * Michael Arndt has been named as the new Managing Editor of Crain's Chicago Business. He replaces Brandon Copple, who left the company earlier this summer. Prior to joining Crain's, Arndt was with Bloomberg Businessweek, BW Chicago, and the Chicago Tribune. Surprisingly, Crain's Chicago Business did not issue a formal press release on this major hire, but on
their Twitter account
, they did retweet the Chicago Tribune's
Phil Rosenthal's tweet
on the hire, after he broke the story on his
Tower Ticker web-blog
.
* * It's the end of an era at WGN-TV as Gloria Brown will be retiring from the station after being there just under 47 years. Ms. Brown is WGN-TV's Business Manager and is also the producer of the multi-award winning public affairs program "People To People." She first started at WGN-TV in 1964 and was the station's first-ever professional hire of a person of color. She started as a simple typist and worked her way up through the iconic station's ranks, up to overseeing the business affairs for the company. She herself has received numerous awards over the years for her work and was inducted into the prestigious Silver Circle of the National Association of Television Arts and Sciences in 2006. She is a beloved figure in the halls of WGN-TV and will be missed by many.