Details

Published on Monday, 13 September 2010 11:07
In today's News & Notes, we look at a party for WKQX; a party for WBEZ, Steve Dahl hosts a party and celebrates an anniversary, Catherine Johns & Karen Hand join Steve & Johnnie, Steve Harvey brings the laughs to TV, Steve Cochran brings the laughs to Zanies, Floridians get to hear when the Bears lose, and a sad loss for Andy Karzas. It is all below...
* * In the fall of 1992, WKQX-FM flipped to an alternative rock format and has been that way ever since. To celebrate this anniversary, Q101 is throwing themselves a party! "Q101's Birthday Show" will take place on October 15th at 7:30pm at the U.I.C. Pavillion. The concert event will feature Godsmack as the headliner, with Five Finger Death Punch and Drowning Pool also on the bill. Tickets are on sale now for $39.50 & $49.50 (plus your first born child to pay for the TicketMaster fees). Tickets can be purchased
HERE
.

* * Former Chicago radio personalities Catherine Johns and Karen Hand will return to the Chicago airwaves again this evening. The two will be guests of WGN-AM's Steve & Johnnie, coming on a short while after Midnight. Johns & Hand will be on AM 720 discussing their current business, the Chicago Hypnosis Center.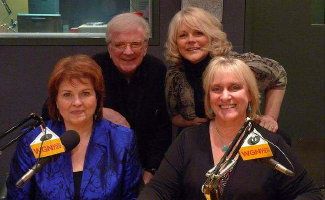 * * As mentioned
here previously
, tonight Steve Dahl will begin hosting Monday Night Football viewing parties in September at Trader Vic's Chicago (1030 N. State St, Chicago). There is no cover charge to attend. In other Steve Dahl news, last week, Dahl celebrated his one year anniversary of the popular Steve Dahl Show Podcast.
* * Former Chicago-only radio personality Steve Harvey takes over as host on the syndicated game show "Family Feud" as of today. He replaced John O'Hurley as host, who left the show to focus on his stage work. Harvey claims to have taken the show in new, more comedic direction. "Family Feud" films in Orlando, FL and will shoot at least a week's worth of programs in 1-2 days (common practice in TV game shows), allowing him plenty of time to still work on his radio show and other projects. Back-to-back episodes of "Family Feud" airs here in Chicago each weekday on WPWR-TV from 1:00pm-2:00pm. Steve Harvey's syndicated radio show airs on WVAZ-FM each weekday morning from 5:00am-9:00am.
* * Speaking of the Sunshine State, for those of you who may be traveling down to southern Florida this winter, you can still hear WBBM-AM's Chicago Bears broadcasts. Radio stations WMYR-AM in Fort Myers, FL and WCNZ-AM in Naples, FL have signed on as part of the Bears Radio Network. These are currently the only two stations outside of the Midwest that carry the broadcasts. The majority of the network are stations in IL, with a handful in IN or IA.
* * The final WBEZ Social party of the summer is this Wednesday. For those who would like to tour the Chicago Public Radio station, meet programming & other staffers, get sneak peeks at the new website, and mingle with fellow public radio fans, this is the party for you. Music provided by Richard Steele and beer & snacks provided by Goose Island. The party will take place at WBEZ's studios within Navy Pier (848 E. Grand Ave, Chicago). The event is free, but those interested must RSVP via Facebook at this link
HERE
. Space is limited.
* * Chicago radio veteran Steve Cochran just finished two big stand-up comedy shows at the Skokie Theatre this past weekend and is getting ready for a few more. Cochran will be delivering the laughs on stage at Zanies on
October 1st in St. Charles
and
October 2nd in Vernon Hills
for two shows each night. Tickets are only $25 each.
* * Condolences go out to Andy Karzas, WFMT-FM's host of "From the Recording Horn." Karzas' partner of 42 years, Jim Deuter, passed away from heart failure two weeks ago. Deuter was a well-known Chicago actor who appeared in numerous plays, films, television shows, and commercials.